On Monday, rail oil tankers carrying crude from booming North Dakota exploded in West Virginia.
So far the damage has been relatively limited, with just one person experiencing respiratory problems and one home destroyed, according to the Wall Street Journal, though several hundred people had to be evacuated and a local state of emergency was declared. It was initially thought that some oil may have leaked into the Kanawha River river but state officials now say that may not be the case, the Journal says.
But as the Journal's Russell Gold and Kris Maher write, the explosion sent fireballs into the sky and "terrified local residents."
What's more, the incident could end up having far-reaching consequences for the industry.
Rail carrier CSX has disclosed that the cars carrying the oil were newer models that were supposed to be safer than the majority of cars that are now up to decades old.
G/O Media may get a commission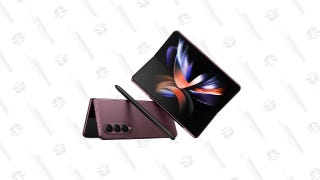 Save Up to $300
Galaxy Z Fold4
Right now, the Obama administration is considering new rules for what the government literally calls "high-hazard flammable trains." One of the rules would mandate a system-wide replacement of all DOT-111 oil cars, which were designed in the early 1960s. These cars have been faulted in other recent accidents, including the 2013 Lac Meganatic disaster in Canada that killed 47 people.
Gold and Maher report that one of the proposed changes involves changing all cars to CPC-1232 tankers. Those were the ones that exploded Monday, despite having stronger reinforcements.
An alternative proposal would require an even thicker car. The oil industry has come out against those rules, saying the proposed changes could prove costly.
It gets even scarier: local safety officials are getting left in the dark about rail oil routes, which have multiplied exponentially in recent years thanks to the fracking boom.
Gold reported in December that there are no requirements to disclose to local safety officials that potentially hazardous material is being newly transported through their areas.
And rail companies have actually sued in recent years to block disclosure of the rail routes, citing security concerns.
It wasn't immediately clear whether local West Virginia officials knew about the CSX route.
But the West Virginia Gazette reports that last October the state's homeland security division refused to release details of local oil shipments by rail.
Rob covers business, economics and the environment for Fusion. He previously worked at Business Insider. He grew up in Chicago.