Earlier this week, the internet responded to the Oregon militants' pleas for emergency rations with a literal bag of dicks. As chuckle-worthy as the prank of sending dildos to the protesters was, Max Temkin couldn't help but wonder if anyone had fully thought their gifts through.
If the militiamen didn't have snacks to eat, what were the chances that they had any personal lubricant to actually use all of their new dildos?
Alarmed at the prospect of the men being forced to live without lube, Temkin, co-creator of the game Cards Against Humanity, allegedly took it upon himself to send the men a 55-gallon tub of Passion Natural Water-Based lube valued at over $1,000.
https://twitter.com/MaxTemkin/status/687445755309641728
"I hope nobody shoots me with a gun," Temkin tweeted after announcing his gift. "I don't want to get shot over a joke because I know my obituary will be like, 'he finally went too far.'"
G/O Media may get a commission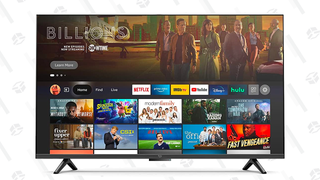 22% off
Amazon Fire TV - 50" Omni Series 4K - Early Access Deal
Judging by Passion Natural's reviews, Ammon Bundy and his friends would be hard-pressed to be angry with Temkin's quality choice of lubricant. Currently, the product has an average rating of about 4.1/5 out from 327 reviews.
"This is lube of choice for all Patriots," wrote one reviewer. "If you are going to have a long, secluded stay with your best buds in the beautiful wilderness, you'll never get bored with this 55 gallon of lube."

It is so slick, wet, and slippery, you'll be pleasantly surprised by what can slip in where. It also is great for hydration when the water and snack supply is low. Since it's water based, it's also non-toxic to Federally protected, endangered wildlife species. Slip into nature.
Slip into nature, indeed.