The third season of Jenji Kohan's prison dramedy Orange Is the New Black premiered on Netflix on Friday (actually, it enjoyed an unexpected early release on Thursday night). In the first episode, we return to Litchfield on Mother's Day, when the inmates' children visit the prison for a fair.
The grounds are covered in budget decorations, including a depressingly random assortment of balloons, which remind us that these festivities are, at best, only an optimistic approximation of normalcy.
In fact, balloons are featured in almost every frame of this episode. Even the paper plates on which food is served are printed with a balloon pattern.
G/O Media may get a commission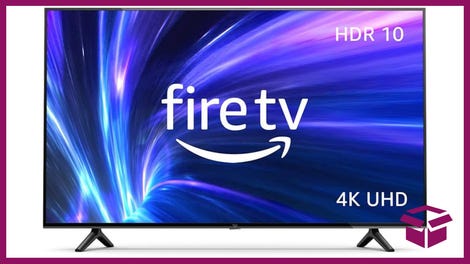 42% Off
Amazon Fire TV 50" 4K Smart TV
Balloons emerge as an important symbol of childhood throughout a season concerned with the inevitable mistakes even the best-intentioned parents make to fuck up their kids — particularly with respect to the relationship between Dayanara (Dashcha Polanco) and Aleida Diaz (Elizabeth Rodriguez), who are not only fellow inmates, and not only mother and daughter, but soon-to-be grandmother and mother to Daya's unborn child with prison guard John Bennett (Matt McGorry).
In "Mother's Day," the season premiere, balloons also appear in a brief, nostalgic flashback to Aleida holding Daya shortly after her birth.
But back at the Mother's Day fair, a pleasant afternoon takes a disturbing turn when Daya's younger sister Lucy goes missing — she turns out to be hiding in Daya's bunk, perhaps a disheartening omen for her own chances of incarceration — and the guards sound an alarm. The inmates hit the floor, and the kids are obviously rattled. It's a startling reminder that this is a prison. Their mothers are not free.
One little girl, kneeling on the grass and covering her head, lets go of the balloon (of course it's a red balloon, of course it is) in her hand.
Like innocence, a balloon is easily lost or destroyed. Even under the best circumstances, it won't last forever.
In "Bed Bugs and Beyond," Bennett visits Cesar (Berto Colon), Aleida's boyfriend, after proposing to Daya. Bennett comes bearing a birthday gift for Lucy, but there are no signs of celebration here. Despite the number of children in the drug dealer's care, this is far from a kid-friendly home: Cesar pulls a gun at dinner when Daya's younger brother says he doesn't want to eat French fries.
In the apartment, Bennett finds a framed photograph from Daya's quinceañera, where — as Cesar merrily recounts — Aleida got drunk, fell on the cake, and set her dress on fire. In the picture, a teenage Daya poses under a balloon arch. It's clearly a dated photo, but considering how remote the whimsy and happiness evoked by balloons feel in this scene, it might as well have been taken a hundred years ago.
In "Don't Make Me Come Back There," the season's penultimate episode, we travel back to Daya's childhood. As Aleida contemplates sending her daughter to a program for underprivileged kids at a summer camp away from the city, Daya excitedly presents something she found while playing: "a balloon that looks like a condom." This unsettling association of something childlike with sex apparently seals the deal in Aleida's mind: she owes her daughter a better life than the one she's got.
Daya thrives at camp, to an extent that Aleida wasn't prepared for. When she arrives to pick her up, Daya's mother clearly feels threatened by her daughter's attachment to her new friends and counselor, who encourages Daya to pursue a career as an artist.
Back home, Aleida persuades Daya that she was bored at camp, and throws out the crafts she'd made. One of Daya's projects is a papier-mâché head cast around a balloon – an attempt to craft something permanent out of something ephemeral. In a heartbreaking sequence, Aleida smashes the face in with her fist before discarding it, choosing her own selfishness over her daughter's future.
"So, you really want to be an artist?" Aleida asks a few minutes later. "Nah," Daya says, eager to please her mother, "I want to be a mom."
Molly Fitzpatrick is senior editor of Fusion's Pop & Culture section. Her interests include movies about movies, TV shows about TV shows, and movies about TV shows, but not so much TV shows about movies.