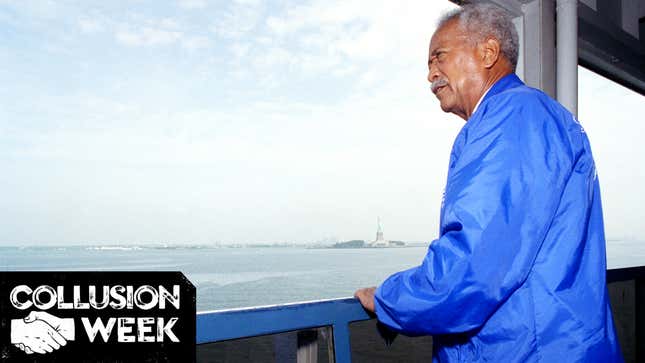 If you're visiting New York, you really ought to ride the ferry to Staten Island. You can't find a better free lesson in American urban politics anywhere.

To take any subway ride in New York will cost you between $1.60 and $2.75, depending on what kind of MetroCard you buy and how often you use it. The ferry from Astoria, Queens, to Wall Street will cost you $2.75—with no transfers to the subways or buses. To get from the Hudson River to the East River on the M42, the slowest bus in New York, which crawls along traffic-choked streets at speeds close to those achieved by the average city pedestrian, costs the same $2.75 as it costs to ride from Main Street in Flushing to the Hudson Yards on the West Side of Manhattan in a snappy half-hour on the express 7. If you live on City Island, the quaint Bronx community just off the far northeast coast of the city, the twice-daily express bus to Midtown will cost you $6.50 (or, again, a little less with an unlimited pass).
And if you live in Staten Island, the Staten Island Ferry will get you to Lower Manhattan in 25 scenic minutes for the very affordable price of nothing. It's one of the best deals in town.
Even longtime New Yorkers are sometimes surprised to learn it was not always thus. In fact, the Staten Island Ferry has only been free for a fraction of its long history.
From the consolidation of the City of New York in 1898 until the opening of the Verrazano-Narrows bridge in 1964, the ferry was the only direct transportation option between Staten Island and the other four boroughs. And for all that time, except for a brief period when it rose to 10 cents, the fare to ride the ferry was a nickel. It remained a nickel into the 1970s, when it rose, controversially, to 25 cents. In 1990 it went up to 50 cents (the subway fare, by then, had already crossed the $1 threshold). The fare was never particularly high (even with inflation, that 50 cents, the most it ever cost to ride the ferry, still comes out to a bit less than a buck in 2018 money). But it was still real money, and for a century, Staten Islanders complained like hell whenever anyone threatened to raise it.
Which is exactly what they did on the occasion of that last fare hike in 1990. That fare hike, through a series of odd historical coincidences, happened to coincide with a largely forgotten chapter in New York City history: the closest Staten Island ever got to seceding from the city of New York.
Staten Island secession is, for certain residents, a longstanding, if not particularly realistic, political goal. It is unrealistic because it would require an act by the New York state legislature and, until that point, prior efforts had gone nowhere. But in 1989, the Republican-led state legislature passed a bill allowing a referendum on the subject. It was expected to die in the Democrat-run Assembly. Then the Assembly unexpectedly passed it, with the understanding that Governor Mario Cuomo would veto it. But for some reason—I have never seen a totally convincing explanation—Governor Cuomo didn't veto it.
Instead, it passed, and a nonbinding referendum on Staten Island secession was placed on the ballot in 1990. That referendum passed, necessitating another referendum on Staten Island's proposed city charter. That vote would officially send the secession issue back to the state government to make the final determination. It was, in other words, all the marbles. It was set to be voted on in 1993. New York City, in case you didn't know, holds mayoral elections in odd-numbered off-years. 1993 was one of those years.
By the time 1993 rolled around, support in Staten Island for secession from the city was probably running at an all-time high. And that 1990 ferry fare hike, as dinky as it seems now, was a very real factor behind that support, buttressed by the surge in white grievance politics that followed the 1989 election of David Dinkins, the first black mayor of New York, and the highly racialized anxiety some white New Yorkers felt after violent unrest broke out in Crown Heights, Brooklyn, in 1991.
Governor Cuomo was a Democrat, and a stalwart liberal, who hoped someday to be president. As governor, he also enjoyed a mutually beneficial working relationship with the Republicans who ran the state Senate for the entirety of his three terms in office. And, as longtime New York political reporter Richard Barr wrote in 2015, Cuomo had political "non-aggression pacts" with prominent Republican politicians like Senator Al D'Amato.

If Cuomo had once enjoyed a similarly supportive relationship with Mayor Dinkins, by 1993, he did not seem to be interested in protecting his fellow liberal Democrat. The same election year that the Staten Island secession referendum he failed to veto was to appear on the ballot, he also released a damning state report on the city's response to the nationally notorious "Crown Heights Riots." That report blamed Dinkins's police department and, notably, Dinkins himself, saying the mayor "did not act in a timely and decisive manner" in ordering police to quell the violence.
Rudy Giuliani was elected mayor of New York in 1993. Giuliani, who campaigned as the candidate of white backlash and openly incited a police riot against the city's first black mayor, received 51 percent of the vote. It was a rematch of the 1989 election, which Dinkins had won with a hair over half of the votes. Half of Giuliani's 44,000 vote margin of victory was attributable to increased turnout on Staten Island. The secession referendum passed, by the way, and the GOP-controlled state Senate approved it in 1995, only for it to stall in the Democrat-controlled Assembly. But by 1997, one poll showed a majority of Staten Islanders no longer wanted to secede from a city now run by Mayor Rudy Giuliani.

Ask Dinkins now, and he'll tell you that Cuomo played an essential role in the election of Giuliani. We can only speculate about his strategy, but perhaps Cuomo thought he'd have an easier chance at his own re-election if no one associated his administration with the "failed" mayoralty of Dinkins. Various Democrats have, over the years, believed that they would get "credit" from certain voters for being able to "reach across the aisle" to "get things done," and they have also seemed to fear being punished by those particular voters for appearing too attentive to the needs of traditional Democratic constituencies.
Finally, in April of 1997, Rudy Giuliani, not coincidentally up for re-election in a few months, announced that the Staten Island Ferry would no longer cost 50 cents, or even a nickel. As the city rolled out new MetroCards with free transfers, Giuliani said they'd be tearing out the turnstiles at the ferry terminal and making the ride completely free. In the interest of fairness, of course:
"The people of Queens, the Bronx, Brooklyn and Staten Island are all helped by this," Mr. Giuliani said yesterday morning after reading with fourth graders at Public School 60 in Woodhaven, Queens, "and it shows a major turnaround in the way our city used to be governed. It used to be governed by and large most often for the benefit of Manhattan. And I've turned that around."
Rudy Giuliani won re-election, once again with strong support from Staten Island.
Term limits barred Giuliani from seeking a third term, but at the dawn of the new millennium he was still doing his part for Staten Island's transit infrastructure, beginning construction on a grand new terminal on the Manhattan side of the route and announcing plans for a new terminal on the Staten Island side. He unveiled those plans alongside a longtime Staten Island politician who had been Giuliani's political ally for many years.
The borough president, Guy V. Molinari, joked yesterday about how dealings regarding the Staten Island ferry had politically ramifications. He recalled — later saying it was in jest — how he had decided to campaign for Mr. Giuliani in his re-election bid for mayor after a discussion about the ferry, which used to charge 50 cents for each ride.

"I cut a deal with the mayor," he said. "I said, 'Mr. Mayor, I will work for you in the election, but if I do it I want something very simple: I want the ferries to be free.'"
And the ferry has been free ever since. (Or "free"—each ride costs the city around $5-6.)
Mario Cuomo, as it happens, ran for a fourth term in 1994. He managed to garner a somewhat begrudging endorsement from Dinkins. Cuomo also received a rather more enthusiastic—and unexpected—endorsement from Giuliani. The state Republican Party was furious, but Giuliani had his reasons.
The support of both mayors, however, wasn't enough. Cuomo lost to Republican George Pataki.
Years later, New York's subways are falling apart, following years of state disinvestment and financial mismanagement—trends largely started by Pataki and continued by each of the Democratic governors who followed him, including Mario's son, Governor Andrew Cuomo—in combination with an inexplicable failure to control out-of-control capital costs. Meanwhile, even as the city population grows, bus ridership is plummeting, and the streets are increasingly congested with privately owned cars, and for-hire and commercial vehicles.
The Staten Island Ferry, though, is in great shape. Between summer 2016 and summer 2017, a record 23.9 million trips were taken on the ferry, the largest yearly ridership ever reported, and the service boasts impressive on-time performance. When New York City finally elected its first post-Dinkins Democratic mayor, in 2013, Staten Island grumbled, but did not revolt.