It's no big revelation that the mainstream media has thoroughly fucked up its coverage of the Trump administration and the Republican Party, but the coverage of the GOP's antidemocratic grabs for power in states where Democrats recently made gains has been even worse.

The GOP-led, gerrymandered legislatures in Wisconsin and Michigan—two states where Democrats won gubernatorial races in November, ending eight years of unified Republican control in each—are both on track to use lame duck sessions to limit the power of the incoming Democratic governors, just weeks after their agendas were roundly rejected at the ballot box.
Meanwhile, in North Carolina, where the state GOP created this playbook, Republicans who will lose their supermajorities in both chambers of the General Assembly next month are rushing to ram through one final attempt at giving the legislature—read: Republicans—a larger role in the state and local boards of election. (This move has already been rejected by both the courts and voters in last month's election, but they're still trying.) And speaking of North Carolina and boards of elections, there are strong signs that blatant election fraud was committed on behalf of Republican Mark Harris in both his congressional primary and general election.
So how is the national press describing all of this shit, which would no doubt garner several sternly worded essays by the nation's premier editorial boards if it happened anywhere else? Business as usual. From a New York Times piece today headlined, "Stung by Election Losses, Republicans in the States Seek a Way to Neutralize Democrats" (emphasis mine):
Democrats reacted with fury, crowding the halls of the State Capitol in Madison on Monday and accusing the Republicans of trying to undo an election they had lost. It was only the latest such Republican effort across the country to try to use legislative action to counter blows the party suffered at the polls. For Wisconsin, a state that both parties will urgently vie to win in 2020 elections, it was one more sign of the ferocious partisan split that has rippled through the state in recent years.

G/O Media may get a commission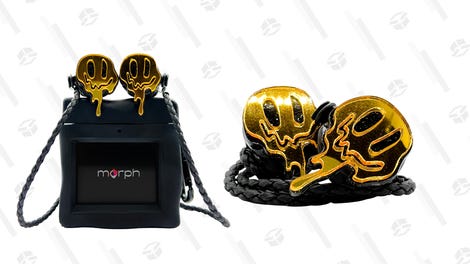 morph audio
Morph Earphones
The reason this is a story is not "ferocious partisanship," it's Wisconsin Republicans effectively attempting to nullify the results of an election they lost in the final minute. It's a systemic undermining of democracy.
Not to be outdone by the Times, here's how NBC's political team (with Chuck Todd as the first byline) described what's happening:
Do you know what every bit of "rotten partisanship" referenced has in common in all three states? It's being caused by the same goddamn party! This has been a national crisis for seven years now, ever since state legislatures began redistricting after a very good election for Republicans, to the point where results show stuff like this:
And this:
And this:
In no way has any of this even remotely approached how a normal democracy is supposed to work. But now that the Republicans have suffered a swing in the opposite direction, we're seeing how the GOP responds to losing even when the deck is stacked so heavily in its favor: By subverting the will of voters. And by choosing to couch descriptions of these blatantly antidemocratic death grips on power in both sides-ism and horse race terms, the press is helping them do it.