A police officer arrives at the scene in the small California city of Barstow. A white, slender blond woman is rattled, her adrenaline clearly pumping. The officer addresses the woman calmly, listening intently. Someone has thrown something at the woman's car and punched her window, she says. "I'm scared," the woman says to the officer over and over again.
"She scared the hell out of me," she says.
The officer tells the white woman there is little he can do since there is no apparent damage to her car or person. "I don't see a crime that has been committed," he says. But the officer assures the white woman he will investigate further.
Less than two minutes later, Charlena Cook, a visibly pregnant and visibly shaken black woman, is on the ground in handcuffs. The Barstow police department says this body-camera footage proves that Cook "actively resisted" arrest. But I saw something very different in that video. I saw a black pregnant woman being attacked for wanting to verify her rights.
Barstow Police Department could not be reached for comment.
G/O Media may get a commission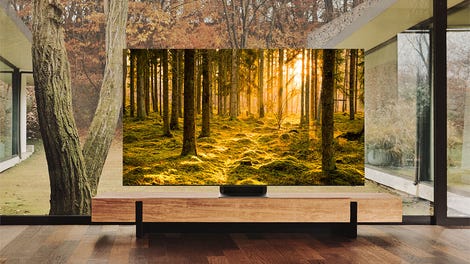 Up to 40% off
Samsung Smart TVs
"How you doing, ma'am?" the officer asks Cook after walking over to her, according to the video. She's defensive—she knows he's coming to question her, not to assuage her. "I was just dropping my daughter off," Cook says. "She was honking and honking," the woman says. "So I roll down my window to see what she wants."
The white woman threatened to hit her car, she claims.
"What is your name?" the officer asks her. "I'm not giving you my name," she says.
"I actually do have the right to ask you your name," retorts the officer.
Cook wants verification. Perhaps the officer is lying to her. Has he given her a reason to trust him?
The officer, it turns out, could have been wrong to use Cook's refusal to provide her name as justification for arrest. In an agreement reached with the American Civil Liberties Union just last week, concerning a separate case, "Barstow agreed that officers may not arrest someone solely for refusing to show identification," ACLU staff attorney Jessica Price told the Desert Dispatch last week.
It is unclear if Barstow police were instructed to arrest people for refusing to show identification at the time of Cook's arrest.
"I'm going to give you two minutes [to give your name]," says the officer, agitated.
That was at the 4:57 mark in the video.
By 5:05, eight seconds after he told the black woman he would give her two minutes, he says to her again, rankled, "OK, just give me your name."
Eight seconds. "I don't feel comfortable right here," she says to him, and to someone she has called on her phone.
Ten seconds later, the officer puts his hands on Cook. He promised her two minutes to find out whether or not she had to give him her name. And he gave her 18 seconds before grabbing her.
She yells out, "Don't touch me, don't touch me."
He continues to touch her. And now, it appears, more forcefully. Cook is placed under arrest and put in the back of the police car. She asks to be let go and what she is being arrested for.
Cook was charged with resisting or obstructing a peace officer or public official, a misdemeanor, but the charge was later dropped.
It took the officer 18 seconds to arrest a black woman for nothing. And I am left wondering what set him off in those 18 seconds. Was he angry? Fearful? Or, was the officer convinced of some sort of innate criminality from the beginning?
Collier Meyerson is a reporter at Fusion with a focus on race and politics. She lives in Brooklyn.