DES MOINES, Iowa—Coming to the United States as a refugee is hard. But it's especially hard if you arrive during a biting Iowa winter and you don't own boots or jackets.
That's what happened to Gopal Khadka and his family, refugees from the Himalayan kingdom of Bhutan. When they woke up on their first morning in Des Moines—after decades of living in a Nepalese refugee camp—a carpet of shining white snow spread out over their front lawn.
"It was so beautiful, but we didn't even know it was snow," Khadka said. "And it was freezing."
The temperature was hardly the only adjustment he had to make. Now 45, Khadka told me his story over a steaming, silky cup of chai tea in his small, tidy home in a Des Moines suburb. He has a lined face and a big smile.
G/O Media may get a commission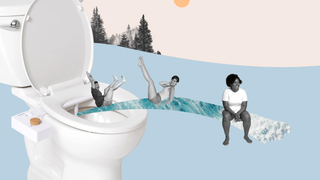 17% off
Tushy 3.0 Warm Water Spa Bidet Attachment
He and his family were victims of a refugee crisis that most Americans have never heard of. In the 1980s, the Bhutanese government—worried about preventing illegal immigration and preserving the country's cultural identity—decided to deport thousands people of Nepali ethnicity. Many families like Khadka's had lived in the country's south for centuries.
The government passed laws requiring people to wear traditional Bhutanese dress and banning the Nepali language in public, and, human rights groups say, tortured Nepali Bhutanese who spoke out against the new laws. Khadka's father was one of those beaten, he said.
Khadka was 21 when he was deported from Bhutan to a refugee camp in southern Nepal, in 1992. The camp was crowded and dirty, and medicine and food were scarce. In the first few weeks, before help arrived from the U.N. and other nonprofits, "20 to 30 bodies were taken from the camp every day," Khadka said.
He spent the next 17 years there. He got married in the camp, and his two sons were born there. He started a school, teaching hundreds of kids under a tree. Later, he was elected camp secretary, essentially the mayor of the thousands of refugees living there.
Meanwhile, the governments of Bhutan and Nepal were locked in disputes about what to do with more than 100,000 refugees living in seven camps. In 2007, the U.N. finally decided there was no hope of either country taking them in permanently, and started sending the refugees around the world, to the U.S., Canada, Australia, and other countries.
Since 2008, the U.S. has resettled more than 85,000 Bhutanese refugees, with about 800 going to Iowa. In 2012, more refugees came to the U.S. from Bhutan than from any other country.
Hoping to get his sons the best possible education, Khadka applied for resettlement in the U.S. right away. It took about eight months, with interviews, medical screenings, and lots of paperwork. Finally, they were told that they got approved.
"We didn't really know what the United States was," let alone Iowa, said Khadka's son Nadin. "We had no internet, no cellphone, no computers, no nothing. We couldn't really tell if coming to America is good … we just thought that it would be better than what we were living now."
The family landed in New York City on Nov. 18, 2008. They spent their first night in a "big hotel" near JFK airport, and from their room on the ninth floor, the lights of the city spread out below. So when they went on to Des Moines the next day, they were surprised that the rest of the U.S. wasn't exactly New York. "We were like, was this really America?" Nadin remembered, laughing.
Adapting to the new culture—and the climate—wasn't easy. They were among the first Bhutanese refugees in the state. Khadka started working at Walmart, pushing carts around outside in the snow.
But in the last eight years, the family has built a life here. They participate in Bhutanese festivals with other refugees in Des Moines. Nadin, now 22, graduated from high school and now is a senior at Iowa State University. They bought their own home in 2010.
"I feel like I came from hell to heaven," Gopal said.
"In the camp, we couldn't even dream because we didn't know what to dream," added Nadin, who has a laid-back attitude and a wispy beard. "Now we can dream anything."
Not everyone manages the transition so well. Many Bhutanese refugees suffer from depression, and there's a strikingly high suicide rate among Bhutanese refugee communities in the U.S. John Wilken, the director of the Iowa state Bureau of Refugee Services, said his office is trying to provide more mental health options for refugees, but struggled by tight resources. "It's clear that being a refugee is a demanding experience, and because the safety net is pretty short in the U.S., in addition to all the trauma that's happened to the individuals overseas, there's no question that there's additional trauma that refugees experience going through the process of resettlement," he said.
Gopal now works as a case manager at a local refugee resettlement agency, helping families start their lives in Iowa and adapt successfully. His clients are from around the world: Congo, Burma, Ethiopia, Somalia.
His job begins by finding new refugees a house or apartment to live in. When they arrive, he meets them at the airport, along with a translator and any relatives they might have. Then he drives them to their new home, where a meal of their own cultural food is waiting, prepared by relatives or earlier refugees from the same country.
Next, it's a crash course in how to be American. Gopal gives them a tour of their house, teaches them how to turn on the lights, flush the toilet, use the refrigerator. In the first few days, he takes them to apply for government benefits, schedule a doctor's appointment, and enroll their kids in school.
"The country where I came from and these United States were totally different, and they might have the same problems I had," Gopal said. He tries to share his own experiences to help new refugees adapt.
Oftentimes, they don't share a language, but that doesn't really matter. "If they just smile at me, I'll be happy the whole day," he said.
Back in Nepal, the refugee camps are clearing out. There used to be seven camps full of Bhutanese refugees; only two are left. Last month, the 100,000th Bhutanese refugee left Nepal for the United States, joining her daughters in Ohio. Others refuse to be resettled, still hoping to return to Bhutan even though the government has adamantly denied them re-entry.
While Bhutanese refugees were once the largest group coming to the U.S., their numbers have slowed. Now, refugees from Myanmar, Iraq, Somalia, and Congo outnumber them, and the political conversation about refugees has refocused on the prospect of Syrians coming into the country. Iowa Gov. Terry Branstad is one of 31 U.S. governors who have vowed to bar Syrian refugees from their state.
Gopal speaks a bit hesitatingly, turning at times to Nabin, who's a little more confident. But when Branstad's decision comes up in our conversation, he voices his opinion loudly and passionately.
"Syrian refugees are the victims of war," Khadka said. "They are human beings. We need to support them, we need to help these people. That is the greatness of the United States."
Nabin agrees. "I see Donald Trump talking shit about immigrants, refugees, banning Muslims coming to America, and that's totally against what America stands for," he said. "I think we are all refugees, even white people, except Native Americans. Because we all came to America to take refuge. That's what refugee stands for… they might not have been political refugees or lived in refugee camps, but they came to America to take refuge."
Like most refugees, the family are now U.S. citizens. "It's really an honor to have a country to call yours," Nabin said. "It's such an honor to be a U.S. citizen, one of the best countries in the world."
The Iowa caucuses next month will be the first time in their lives that they vote. (Bhutan was a monarchy, and refugees in Nepal had no official voting rights.)
I asked whom they planned to caucus for. "Bernie," Khadka responded. Nabin agreed emphatically. They like his economic policies, his stance on welcoming more refugees, and that he's from Vermont, where they have family.
Maybe that's the most Iowan thing of all—participating in the caucuses, helping choose the next president.
People sometimes ask Nabin where he's from. It's not an easy question: his parents are Bhutanese of Nepali ethnicity. But Bhutan pushed his family out, and he's never lived there. And Nepal kept him in a refugee camp, not accepting his family.
"I don't tell them Nepal or Bhutan," he said with a smile. "I usually say I'm from Des Moines. I'm from Iowa."
Join us live on Jan. 11 at 8 p.m. ET as Fusion hosts the 2016 Brown & Black Democratic Presidential Forum from Drake University in Des Moines. The forum will focus on where the candidates stand on issues that matter most to America's growing multicultural population. Tune in to Fusion's cable network, or watch the livestream on Fusion.net, Facebook, and YouTube. And download the Fusion app and join the conversation during the forum. Available on iOS and Android.
Casey Tolan is a National News Reporter for Fusion based in New York City.