Four more states held primary elections on Tuesday night, including the 2016 swing states of Wisconsin and Minnesota. If you were a Republican or someone who likes busting unions, you had a terrible night.

In Wisconsin, Democrats are looking to topple two-term Republican governor and former presidential candidate Scott Walker. Despite his status as a conservative darling thanks to his hard work making life worse for public sector workers, it appears time hasn't endeared him to Wisconsin voters; in July, a Morning Consult poll found that Walker was the 9th-least popular governor in the country.
Still, Republicans re-nominated Walker on Tuesday with 92 percent of the vote over a more moderate challenger. On the Democratic side, state schools superintendent Tony Evers comfortably won his race in a 10-person field, but what's going to scare Walker than that (even more than he's already been shook) is Democratic voters' enthusiasm: over 81,000 more people cast ballots in the Democratic primary than the Republican one.
In Minnesota, Republicans had even bigger problems. Democrats cast over 270,000 more votes in the state's gubernatorial primary than Republicans did, and nominated Democratic congressman Tim Walz to be their nominee. Union-busting attorney general Lori Swanson—whom the Intercept reported last week had relied on her government staff to do campaign work—finished a distant third despite previously being considered the frontrunner. And on the Republican side, the comparatively low turnout produced a surprise: 2014 gubernatorial nominee Jeff Johnson defeated former two-term governor Tim Pawlenty. In July, NBC News released a poll showing Pawlenty with a 15-point lead over Johnson.
Vermont voters also went to the polls on Tuesday. The state's governor, Republican Phil Scott won his first two-year term in 2016, and is currently projected to roll to re-election. But on Tuesday, he faced a surprisingly strong challenge from political neophyte Keith Stern. Many Republicans were livid after Scott signed a package of gun control bills back in April. He ultimately won with 68 percent of the vote, but his approval rating in one of the most liberal states in the country has recently plummeted, and his Democratic opponent in November, Christine Hallquist, outpolled him by over 3,000 votes despite facing a larger field of primary candidates. If Hallquist is elected, she'll be the first openly transgender governor in U.S. history.
G/O Media may get a commission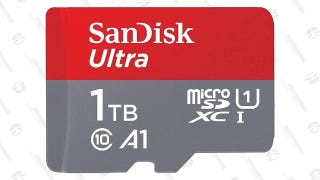 Save $70
SanDisk Ultra 1TB MicroSDXC Card
While much of the focus in November is understandably on Congress (and particularly the House of Representatives), Tuesday night's results indicate that the Democrats could do something that's arguably even more important than winning back Congress: with a new Census coming in 2020 and a new round of fights over redistricting and gerrymandering on deck, a Democratic wave could help start to win back some of the enormous ground the party lost in the states during the Obama years.
Here's what else that happened on Tuesday night that was notable:

Democratic congressman and DNC deputy chair Keith Ellison, who was accused of domestic violence by the son ofhis former partner, Sierra Club organizer Karen Monahan, over the weekend, easily won a five-person Democratic primary for attorney general, and will take on Republican Doug Wardlow in November. Minnesota has not elected a Republican attorney general since 1966. Ellison has denied the allegations.

Ellison vacated his solidly Democratic 5th Congressional District seat in order to run for attorney general. On Tuesday, state representative Ilhan Omar won the primary to replace him with 48 percent of the vote. She's virtually guaranteed to be the first Somali-American in Congress, and along with Michigan Democrat Rashida Tlaib, set to become one of the first two Muslim women elected to Congress in history. Tlaib posted a picture of the two on Twitter to celebrate:
Correction, 10:40 AM ET: This post originally referred to Hayes as a former state teacher of the year. She was the National Teacher of the Year in 2016.