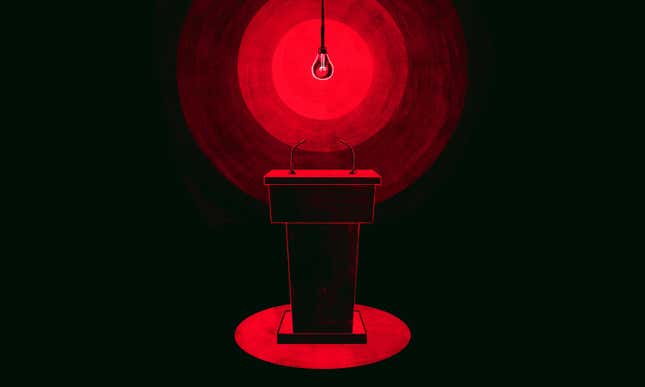 On August 1, Cecilia Gentili, the policy director at the HIV/AIDS-prevention nonprofit Gay Men's Health Crisis, squeezed into the back room of The Three Diamond Door bar in Bushwick, for what had been billed in email chains and direct message groups as a "Pizza Party: Electoral Edition." In some ways, the event was as standard as they come—a group of activists getting their friends together to talk strategy—but for the 46-year-old Gentili, it was special, because the activists were sex workers and their allies.

"Twenty years ago when I came to the United States and did sex work I could have only dreamed of more than 100 sex workers in the same room," Gentili told Splinter a few days after the event. "That had always been a dream and being able to live that is important."
The pizza party was also special because of its surprise guest, New York State Senate candidate Julia Salazar. The Three Diamond Door was so packed that, when Salazar arrived a bit late, she had to dip and weave to reach the bar.
A political candidate with a legitimate shot at elected office openly supporting the rights of sex workers is a relatively new thing in America. But times are changing, and sex workers are flexing their political muscles with ever-increasing strength across the country. They're getting involved in local electoral politics more deeply than ever, by volunteering for political campaigns, researching viable challengers to punitive district attorneys, and even running for office themselves.
For many in the crowd, Salazar, a 27-year-old Democrat running to represent parts of North Brooklyn, was just the latest proof of their newfound mainstream traction.
Salazar has condemned New York's criminal loitering statute, which is facing a legal challenge for its outsize impact on women of color. (Bushwick's 83rd Precinct, which falls in Salazar's district, was one of five precincts that accounted for 68 percent of all arrests for loitering "for the purposes of engaging in a prostitution offense" between 2012 and 2015.) That night, she stood on a leather chair to project to the back of the room. "I think that the goal should be decriminalization," she said, to loud applause. "In the meantime we have to stop this charge."
The national increase in sex worker activism is coming at a particularly precarious time. In April, President Trump signed SESTA/FOSTA, anti-human trafficking legislation that sailed through Congress with bipartisan support and made website owners liable for certain types of third-party content. Journalist Melissa Gira Grant has reported on the rapid chilling effect that followed. Websites quickly scrubbed content related to sex work, and with it the platforms many rely on to make money safely. "It sent shockwaves throughout the sex work community," Jo, a 27-year-old sex worker in New York City, told Splinter.

But the response was just as swift. Sex workers organized know-your-rights trainings, marched, and collected testimony for the law's first constitutional challenge.
Activists have their sights set even further, however. "At the end of the day, this fight is much bigger than a single law," Kate D'Adamo, a sex worker advocate and healthcare consultant for nonprofits, told Splinter. This spring she helped plan a federal lobby day, which took place on June 1. Dozens of sex workers met in Washington and held 40 meetings with representatives. She also helped organize actions across the country for International Whore's Day on June 2, which drew thousands of sex workers to the streets from New York to Seattle.
Also in June, Sex Worker Outreach Project (SWOP) USA awarded fifteen $600 stipends to sex worker groups across the country for local projects ranging from community education to electoral work.
"It's kind of like the universe conspired for this to happen," 25-year-old Berkeley, CA, City Council candidate Aidan Hill, told Splinter. Hill is open about their identity as a nonbinary woman of color who did sex work to pay for community college, and hopes to "open the floodgates" for a new generation of similar candidates. "Everyone is pissed off," they said. "It would be sad if we didn't take this step to change our world."
At The Three Diamond Door, 23-year-old organizer Lola Balcon invited everyone to participate in a sex worker-led canvassing event in Bushwick and Williamsburg on August 19. One hundred people have signed up so far. They'll knock on doors for Salazar and gauge voter interest in criminal justice reform for sex workers. "FOSTA was unprecedented because of the far-ranging impact," Balcon told Splinter afterward. "But the next step is to channel that feeling of crisis into longtime local organizing. Because that's where the decisions about arrests are made."

Balcon is part of a nascent group of New York City sex workers and allies developing a policy platform for local candidates like Salazar, who is running against incumbent Martin Malavé Dilan in Brooklyn's District 18. The platform includes an existing bill introduced last fall that would eliminate the criminal loitering statute. It also condemns massage establishment raids, which increase the risk of immigration enforcement for majority-non citizen workers. It calls for scrubbing all prostitution-related convictions, and repealing an exemption to New York's rape shield law: currently, prosecutors can enter evidence related to a survivor's sexual history only if that person has prostitution-related convictions.

In April, through friends in the New York City chapter of the Democratic Socialists of America, Balcon was able to contact then-congressional candidate Suraj Patel, who challenged FOSTA co-sponsor and longtime Democratic incumbent Carolyn Maloney. After what Balcon recalls as some "tough conversations," and weeks of consultation with sex workers and anti-trafficking advocates, Patel came out against FOSTA. He also participated in what organizers believe to have been the first-ever Congressional candidate town hall meeting for sex workers, in June. Maloney won the election, but Patel got more than 40 percent of the vote.
NYC DSA also helped sex workers get a policy brief in front of Democratic House candidate and DSA member Alexandria Ocasio-Cortez, whose campaign condemned SESTA/FOSTA before her historic victory over longtime incumbent Joe Crowley. (When Bernie Sanders voted for SESTA/FOSTA, "it blindsided us and created a lot of frustration," one DSA member, who requested anonymity because their views could pose a conflict at work, told Splinter. "People realized how endangered folks in sex work were.") Salazar is a DSA member as well. A month ahead of her September 13 primary, she says she is planning to add sex worker rights to the platform page on her website. "I'm kind of honored to be a part of this moment and taking a clearer stance on this," she told Splinter.
Centuries of criminalization have given many sex workers an "earned political apathy," says comic and former sex worker Kaytlin Bailey. But the Patel campaign "flipped a switch" for her.

Now, for the first time in a decade, she's drawing on canvassing skills she picked up working for a national political operative. "I think sex workers are going to demonstrate themselves to be especially good at this," she says. "We're good at making people feel comfortable in an uncomfortable situation. We're pretty good at reading the room."
Audacia Ray, director of advocacy and community organizing at the New York City Anti-Violence Project and a former sex worker, says this new burst of electrical energy is building on a long legacy. She immersed herself in New York politics in the late aughts fighting for the exclusion of condoms as evidence in New York City prostitution cases.
Sex workers, LGBTQ rights groups, and public health organizations eventually came together on the campaign, a full-court press that involved lobbying Albany, pressuring New York City mayoral candidates, and securing support from New York Congresswoman Kathleen Rice, then chair of the state District Attorneys Association. They kept up the pressure for six years and won a partial victory in 2014, when the NYPD updated its patrol guide to exclude condoms as evidence in misdemeanor cases, though not felony cases. ("We weren't over the moon about the win," Ray conceded. "And that's what advocacy is like.")

Throughout, Ray met frequently with a small number of legislative allies, including former Manhattan senator Tom Duane. Still, Duane told Splinter, "I don't ever recall a town hall where there was any significant representation of people who engaged in sex work." Sex workers now speaking out in the electoral arena, he added, "is a very good thing."
Ray credits a younger generation "for whom the internet has always been accessible," and who feel acutely the impact of federal laws that make it harder to work and socialize safely. Other sex workers are grateful for the energy around Black Lives Matter and #MeToo which have put traditionally marginalized voices front and center. As more states move to decriminalize marijuana, Balcon sees an opportunity to draw parallels. "We can talk about it from a criminal justice reform perspective," she said. "We don't need to have a moral debate."
"It shouldn't be newsworthy to have a party of sex workers and have a politician speak at it, or to turn out sex workers to canvass," Balcon added. Sex worker rights, she said, "should be a normal electoral issue that mobilizes people. We're just the first to do that."
---
Emma Whitford is a freelance journalist based in New York City.