Carly Rae Jepsen is not a one-hit wonder.
One hit wonders don't have fans like Carly Rae Jepsen has fans. They don't have people who drive through a drizzly, dreary night to watch them perform songs from their newest album, and they certainly don't have devotees who sing the choruses of b-sides while waiting twenty minutes in cold rain for their metro back to D.C. to show up.
For pop stars, it often seems like there are two options: Become an international sensation with millions of fans and huge arena shows, or fade quickly into oblivion. But Carly Rae Jepsen has found a space for herself, somewhere in between. She can be intimate, brilliant, and still produce undeniably catchy pop songs.

💜💜💜💜
Monday night, Carly Rae kicked off her Gimme Love Tour in Silver Springs, Maryland at the Fillmore—a renovated theater with red plush curtains on the walls and glimmering chandeliers on the ceiling.
Four months ago in the D.C. area, Taylor Swift sold out a 50,000 seat arena. In March, Ariana Grande sold 10,000 tickets. Carly Rae Jepsen isn't even close to playing in that league. The Fillmore holds 2,000 people—and the concert last night wasn't sold out. When it comes to venue size, Carly Rae Jepsen is closer to a very popular indie artist. For example, her fellow Canadian Grimes has sold out a 1,200 person venue in D.C.
Much of what defines a pop show in the public consciousness has a lot to do with size. We see pop as a genre that requires theatrics—Justin Bieber floating down from the ceiling attached to wings; Katy Perry stuffing arenas with dazzling sets and cotton candy scents, and Taylor Swift bringing out a new guest star every night.
G/O Media may get a commission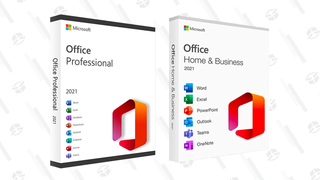 89% off
Microsoft Office Professional 2021 Lifetime License
The pop industry runs on theatrics. No artist, not even Taylor Swift, has enough die hard fans to fill 50,000 person stadiums three times a week. A lot of the people attending pop shows are not superfans—they're there because they liked a couple of songs they heard on the radio, and can afford to pay steep ticket prices (often $100 or more). They expect to be entertained.
This isn't necessarily a bad thing, but it does explain why there's such a pressure on performers to impress and create a spectacle, instead of just perform. Why does Taylor Swift dance and have choreography? Because standing near a microphone doesn't look great from 200 yards away.
Carly Rae Jepsen doesn't have those problems. Her show is smaller, more intimate, and filled with people who knew all the lyrics to the songs on her sophomore album. On top of that, my Carly Rae Jepsen ticket cost me 25 bucks.  She's only playing 9 shows in the United States on this tour. It's all her fanbase can support.

💜💜💜💜
Jepsen's career started on Canadian Idol; she placed 3rd in the fifth season. Shortly afterward, she released a debut album independently and then got really lucky.
Her 2012 single, "Call Me Maybe," was huge, possibly because it was released at the height of YouTube music video recreations, or maybe just because it's really damn catchy. In 2012, it was the best-selling single worldwide. She put out an EP quickly, followed by a sophomore album on a bigger label, and most recently she released Emotion, an album full of impeccable pop songs.
Since "Call Me Maybe" is her biggest hit, she saved it for a three song encore. But of all the songs Jepsen played last night, "Call Me Maybe" was by no means her most entertaining performance. For the first 60 minutes of the show, Jepsen played lesser-known tracks with abandon. The audience ate up her cutesy, grimacing rendition of "LA Hallucinations," and laughed with her when she gave a anecdotal intro to "Boy Problems."
Her voice had much more depth than what can be heard on her album, and her stage presence was filled with twirling and hair grabbing. During "All That," a woman behind me whispered in awe, "She's Mariah." Jepsen, of course, does not have the range of Mariah Carey, but she really did sound great.
If anything, "Call Me Maybe" was too impersonal of a song for the artist that Jepsen has become. Early in the night,  she pointed out her boyfriend in the balcony, and told the crowd that he was there to support her on the opening night of her tour and that he'd brought his dad. It wasn't a Taylor Swift-style emotional confession, but it was a genuine, honest moment that made the audience feel more connected to her.
Seeing Carly Rae Jepsen live is just that—a reminder that pop music connects us, that it gives us songs to scream along to together in a group. The Gimme Love tour isn't about album promotion; the people who love Jepsen already own her music. Instead, the Gimme Love tour is a reminder of what great pop can really be: fun, impersonal, and intimate all at the same time.
Kelsey McKinney is a culture staff writer for Fusion.