"It's degrading, dehumanizing. They're treating you like something that's an abomination," said Tina Tinen, a palpable and mounting anxiety in her voice. "An alien, a thing," she continued.
It's how Tinen felt when in 2012 she found herself five months into her first pregnancy and incarcerated at Bedford Women's Prison in upstate New York at 42 years old. Tinen told me she was shackled during her pregnancy a number of times: when she left the prison for doctor visits, in transport on the way to the hospital even when her contractions were two minutes apart, and immediately postpartum. "It's beyond scary," Tinen said. "It's every spectrum of bad feelings you can have. It's anger, it's embarrassment, fear. It's everything."
The practice of shackling pregnant women "has been going on for decades, and no one knew about it" said Amy Fettig, senior staff counsel at the American Civil Liberties Union. But Fettig says things are slowly changing. Maine, for example just passed an anti-shackling law in June, and a bill in New York is waiting on the governor's signature. "The public knows now that we are putting mothers in chains and that's just not right," Fettig said.
Still, only 22 states plus DC have laws on the books regulating the shackling of pregnant women, according to an ACLU report obtained by Fusion. All of these states include language against shackling women in labor, and most have an exception for extenuating medical circumstances.
G/O Media may get a commission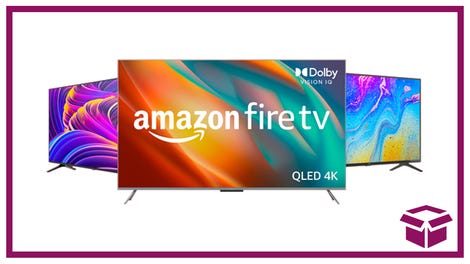 Ooh. stunning.
New Amazon Fire TVs
But that's the bare minimum. There are loopholes in at least nine of the states with laws—either no specific language about shackling women during their first, second, and third trimesters; when they're being transported to the hospital; or postpartum. That means pregnant women are still being shackled in states where there are laws against shackling pregnant women.
About 12,000 women are pregnant in custody every year, according to the ACLU, accounting for 6% of the incarcerated female population.
Tinen, who was jailed for a nonviolent drug offense, was eight months pregnant when she had to leave the prison for a doctor's visit. The guards, she recalls, made her walk down a ramp instead of unshackling her feet and letting her use the stairs. Tinen lost her balance. "When you lose your balance the first thing you do is throw your arms to the side to balance yourself," she told me. "But when you're handcuffed that's not an option." The guard caught her but had she fallen, she said, "who know what would have happened to my baby."
Right after Tinen gave birth, she remembers being placed in a special ward in the hospital for prisoners, alone. "I remember I kept saying 'Where's my baby? When are you taking me to see my baby? Why can't I can't I call my mother? Why can't I call anybody?'" Finally, after hours they placed Tinen in a wheelchair, handcuffed and with ankle restraints on, and led her to a room where her son was. "They uncuffed my hands but not my legs," she said. "And I'll never forget, it was so humiliating. shuffling across the room because when you have on those ankle restraints you can barely take steps," she said of that night holding her son Blake for the first time. "I have bony ankles, I'll never forget how much the shackles they hurt your ankles."
In February the Correctional Association of New York, a non-profit criminal justice reform group, released a damning report claiming that a 2009 law prohibiting the shackling of pregnant women was not being enforced. Almost half of women who had birth in custody in New York reported being shackled on the way to the hospital, a violation of the law. Then in June, New York state assembly and senate passed a bill strengthening its previous law and extending the same rights to women in the first, second, and third trimesters of pregnancy as well as eight weeks postpartum. Nearly four months later, Gov. Andrew Cuomo has yet to sign the bill. Fusion reached out to the governor's office by phone but did not hear back by time of publication.
A representative at the office of New York State Senator Velmanette Montgomery, one of the 2015 anti-shackling bill's sponsors, said in an email to Fusion, "Being in a correctional facility does not cancel a woman's basic right to humanity. Shackling a pregnant woman in labor is the most abhorrent attack on her humanity, and on her child's humanity. It cannot and will not be allowed to continue!"
A lack of attention to the needs of women in prison is much to blame, Fettig explains. "Medical treatments for women was based on male model. So you didn't have doctors and OBGYN's understanding the medical nature of pregnancy. These policies were promulgated for men."
There is still much work to be done, Fettig concedes. "We need to pass legislation that is more accountable," she said.
"If I'm giving birth, and I've made a mistake in my life, I don't understand why my baby should be potentially in danger," said Tinen. "If I slipped and fell on my butt and had a miscarriage, I wouldn't have the life I have today with my son."
"Is this the kind of treatment that we inflict on people when they're at their most vulnerable?" said Fettig. "Is this how we want to bring life into the world? What kind of society do we want to be?"
Collier Meyerson is a reporter at Fusion with a focus on race and politics. She lives in Brooklyn.