An explosive lawsuit alleges that Fox News and a wealthy Trump supporter colluded with the White House to push the conspiracy theory that a Democratic National Committee staffer was murdered for sharing DNC emails with WikiLeaks.

The suit, first reported by NPR on Tuesday morning, was filed on behalf of Fox News contributor and private investigator Rod Wheeler. Wheeler was a central source for the theory that DNC staffer Seth Rich—and not the Russian government—had leaked internal DNC communications during the 2016 election. The story, covered ad nauseum by Fox and other pro-Trump media, was summarily debunked and has since been retracted by the network.
Wheeler's defamation suit claims that the network fabricated quotes from him for its piece. It also contends that Trump supporter Ed Butowsky—an unpaid Fox contributor who connected Wheeler with Fox reporter Malia Zimmerman to conduct the investigation—worked directly with the White House to fine-tune the story in the hope it would distract from Russian meddling in the 2016 election.
In a statement, Fox News president Jay Wallace denied the charges, saying, "The accusation that FoxNews.com published Malia Zimmerman's story to help detract from coverage of the Russia collusion issue is completely erroneous. The retraction of this story is still being investigated internally and we have no evidence that Rod Wheeler was misquoted by Zimmerman."
Even if some of Wheeler's allegations prove untrue, the lawsuit paints yet another searing portrait of a cable channel that has played the role of propaganda arm for the Trump administration. It's as damning a snapshot of those in the Fox orbit—not to mention the "Fair and Balanced" news outlets' journalistic ethics—as you would imagine.
G/O Media may get a commission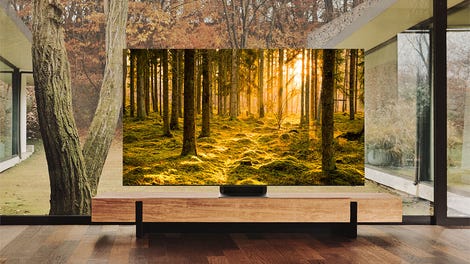 Up to 40% off
Samsung Smart TVs
Below are some of the most bonkers excerpts from a bonkers lawsuit:
Trump allegedly reviewed the story before it was published
The lawsuit claims that Butowsky told Wheeler that Trump himself had read the unpublished article. It would go online about 36 hours later.
Butowsky claimed in an interview with CNN on Tuesday that this text was simply a joke between he and Wheeler. But it came in addition to a voicemail conveying a similar message:
Sean Spicer knew
That wasn't the first contact between the Fox News investigators and the Trump administration, the lawsuit alleges:
Spicer, who recently resigned as White House press secretary, confirmed the meeting in an interview with NPR, adding, "It had nothing to do with advancing the president's domestic agenda — and there was no agenda. They were just informing me of the [Fox] story." He had previously said that he was "not aware" of the story before it was published.

Fox News allegedly fabricated quotes
The network's thinly sourced narrative, written by Zimmerman, relied largely on quotes from Wheeler. He denies ever saying these things:
Fox News executive Jay Wallace told NPR that there was no "concrete evidence" that Wheeler was misquoted. But, NPR added, "The news executive did not address a question about the story's allegedly partisan origins."

Fox News talent were allegedly told to frame the story as proof Russians didn't hack DNC emails
If you recall the conspiratorial wasteland that was Fox News in mid- to late-May, you'll remember how Trump's water-carriers on Fox & Friends and Hannity framed the Rich story as a sort of exoneration of the president. The lawsuit alleges this was all planned before publication:
Butowsky allegedly pinned the fabricated quotes on Trump himself
Fox News threw its primary source and paid contributor under the bus
The cable network didn't publicly address Wheeler's involvement in its reporting when it retracted its article, saying only that, "The article was not initially subjected to the high degree of editorial scrutiny we require for all our reporting." Wheeler also went on Hannity on the same day the piece was retracted and stood by his story about Rich's death.
UPDATE, 3:09 PM: White House Press Secretary Sarah Huckabee Sanders disputed the lawsuit's primary allegations at Tuesday's briefing: "The president didn't have knowledge of this story, the White House didn't have any involvement in this story, and beyond that it's ongoing litigation that doesn't involve anybody in the building." Responding to a question about Spicer meeting with Butowsky before the piece's publication, she added, "It doesn't bother me that the press secretary would take a meeting with somebody involved with the media about a story."