Everyone from Governor Haley to President Obama have called for the removal of the Confederate battle flag flying outside the South Carolina State House. A woman named Bree Newsome even took the matter into her own hands two weekends ago. But the banner yet waves—although that could change as soon as this week.
The State reports that the S.C. General Assembly will begin debating whether or not to remove the flag from Columbia state grounds on Monday. Calls for removal have amplified in recent weeks after a white supremacist entered an historic black church in Charleston and shot and killed nine congregants.
Support for the flag remains high outside of the legislature; 57 percent of Americans view the flag as a symbol of Southern pride, whereas 33 percent see it as a reminder of the United States' history of slavery and racism, according to a recent poll. But The State indicates that both the S.C. House and Senate are expected to vote in favor of the flag's removal from the Capitol Complex.
G/O Media may get a commission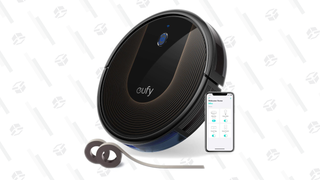 48% Off
Eufy BoostIQ RoboVac
So, why is this process taking so long?
There's actually a ton of red tape preventing the state government—or anyone, really—from removing the Confederate flag from its 30-foot perch at the drop of a hat.
Ever since the passage of the Heritage Act of 2000, the flag has flown outside the State House on the south side of the Confederate Soldier Monument. (Prior to 2000, it actually sat upon the dome of the State House itself.) In order to remove the flag, a new piece of legislation would have to receive two-thirds of the vote in both legislative houses.
Will that be possible? We're about to find out.
Related coverage:
• Listen to the pro-Confederate flag robocall targeting South Carolina residents
• I'm black, and I just went to a reunion at my Confederate flag-loving high school
• "I got to witness history": 6 new photos of Bree Newsome's Confederate flagpole climb
Bad at filling out bios seeks same.