File this under America's truly fucked-up capital punishment system: corrections officials in Ohio plan to provide 69-year-old Alva Campbell with a special pillow to use during his execution on Wednesday to ensure he can breathe just long enough to kill him.

Campbell, a smoker for decades, suffers from severe chronic obstructive pulmonary disorder, which has left him with severe mobile impairment and a number of other medical conditions. Campbell was reportedly agitated during medical examinations which involved him lying flat in the position he'll need to be in for the execution, according to CBS News, prompting the recommendation to grant Campbell a wedge-shaped pillow designed by a doctor under contract with the Ohio Department of Rehabilitation and Correction.
That exam also failed to find any veins suitable for an IV in either of Campbell's arms.
"I anticipate they may have some difficulties [conducting the execution]," David Stebbins, Campbell's federal public defender, told the Dayton Daily News. "He cannot breathe if he has to lie flat. And the process takes some time, so they've arranged a wedge to sit him up at a 40-degree angle."
Campbell, who has been in and out of prisons for most of his adult life, was sentenced to death for a 1997 carjacking. At the time of the incident, he was headed to court to answer to armed robbery charges when he overpowered a police deputy and carjacked a truck belonging to 18-year-old Charles Dials, whom he later fatally shot.
G/O Media may get a commission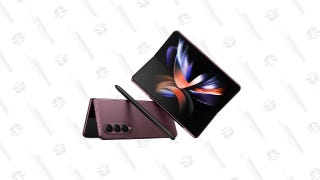 Save Up to $300
Galaxy Z Fold4
Speaking with WCOP, Franklin County prosecutor Ron O'Brien called Campbell "the poster child for the death penalty."
According to Sister Helen Prejean, one of the United States' leading voices against the death penalty, Campbell's crimes—and their final punishment—should be considered in light of his personal history, which she explained on Twitter is rife with abuse and neglect.
Earlier this month, Campbell requested to be executed by firing squad, rather than lethal injection, arguing any challenges his medical condition might pose would be overcome by shooting him to death. His request was denied by Federal Judge Michael Merz, who previously denied a petition by Campbell claiming lethal injection was unconstitutional and would subject him to undue pain.

While "surgeries should be pain-free, there is no constitutional requirement that executions be painless," Merz wrote in his ruling.
Requests to stay Campbell's execution were rejected by Ohio Governor John Kasich last week. The anti-death penalty group Ohioans To Stop Executions have planned a series of rallies against Campbell's death across the state.