Larry King's voice looms over an eerie, menacing loop. "You still have family in Palestine," he says. DJ Khaled, the 40-year-old Palestinian-American music producer and social media giant, responds, "Yes, I do. And I want my people to be good." King asks Khaled if he's angry about the Palestinian-Israeli conflict. "I have to be bitter about anything that's gonna hurt my people," Khaled says to King. It's a soundbite from a 2014 interview between Khaled and King, used to open a diss track directed at Khaled by 25-year-old Kurdish American activist Ahmad Hussam. The loop underneath is an audio sample from Khaled's song "I'm On One." Hussam, who is part of a socially conscious production house called Peace House, says his intention wasn't to claim dominance over DJ Khaled in hip-hop, or to flex his lyrical style. The music, Hussam said, was secondary. Instead, the intention was to expose Khaled's actions as harmful to the plight of his homeland.
Peace House's gripe: Hummus. "Before the Sabra thing, I didn't really care about" DJ Khaled, Hussam told me over the phone from Florida, where he and Khaled both live. "He's always talking about being grateful. I definitely am not hating on him." The video, entitled "DJ Khaled Diss #BoycottSabra," currently has over 500,000 views on Facebook and is condemning Khaled for his participation in "Guac the Bowl," an event sponsored by the American hummus company, Sabra. The company, according to The New York Times, has financial ties to a manufacturer that has donated money to an elite division of Israel's military. (In 2010, according to the Jerusalem Post, the manufacturer in question, the Strauss Group, removed its support for the Israeli army from its website.) Hussam, who is an adherent of Boycotts Divestment and Sanctions (BDS), a tactic used by critics of Israel's occupation, many of whom want to raise awareness about the occupation of Palestine, supports a total boycott of the product.
"I wish he would speak more about being Palestinian," Hussam said, a twinge of idealism in his voice. "I wish [DJ Khaled] would say 'Free Palestine.'" But Khaled has taken to more quirky platitudes and pieces of advice like "Be a star, be a superstar," and "Some people can't handle success. I can." DJ Khaled has rose to celebrity on the social media platform Snapchat by publishing short videos of inspirational and positive messages. A crusader for the Palestinian cause he is not. And that didn't bother Hussam—until Khaled appeared at a Sabra event.
"Now instead of being neutral, DJ Khaled is supporting the oppression of his own people," Hussam said. In footage of the event obtained by Fusion, Khaled is seen eating the Sabra product and is heard saying "Shout out to Guac Bowl and Sabra." For Hussam, "that's where Khaled crossed the line." It drove him to "raise awareness" about the company's financial link to the Israeli army. Fusion reached out to Sabra but did not hear back by time of publication.
G/O Media may get a commission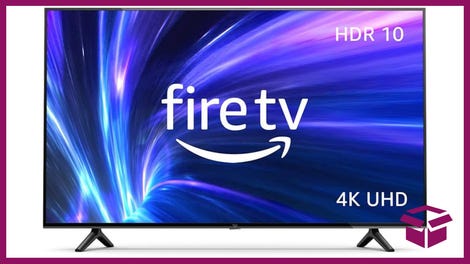 42% Off
Amazon Fire TV 50" 4K Smart TV
The reaction to Hussam's video, he says, has been mostly positive. "There are some hardcore Khaled fans," Hussam said of the video's detractors. But "the comments on Facebook and the fact that people are sharing left and right and unfollowing him on Snapchat" is a measure of success for the activist. "If you love human rights you should not be eating Sabra," Hussam said.
DJ Khaled—who was born in New Orleans as Khaled Mohamed Khaled—has spoken out, on occasion, about the conflict. In July 2014, DJ Khaled tweeted, "Praying for my people #peaceinthemiddleeast #freepalestine." Fusion reached out to Khaled for comment but did not hear back by time of publication.
Khaled sent the message around the beginning of a military operation carried out by the Israeli government on Palestinian-occupied territories called "Protective Edge." According to the United Nations, 2,251 Palestinians were killed. Civilian casualties reached 1,462; among them were 299 women and 551 children. This compared to 67 Israeli soldiers and 6 Israeli civilians. (The Israeli government has disputed the Palestinian civilian casualty figures.)
Hussam, who is of Kurdish descent, told me he began organizing for the Palestinian statehood cause in college while at the University of South Florida, where students collected over 10,000 signatures to encourage the school to boycott Israeli products. He also credits his own heritage. "Definitely being Kurdish, I can sympathize with the people," he said.
Choosing hip hop as a medium for his activism was purposeful, Hussam said. The pro-Palestine movement often looks to black cultural touchstones and the black struggle for equality as a natural ally. "In our video we included footage from Ferguson," Hussam told me. "And no one commented or noticed," he noted. "Because it looks the same." According to some reports, Palestinians in 2014 offered guidance to protesters in Ferguson via social media on how to deal with tear gas.
The Jewish publication Tablet has published articles discrediting solidarity between organizers in the black American community and those advocating for Palestinian statehood. (Tablet reflects a variety of opinions but its Israel coverage skews right). The New York Post published a similar argument.
Hussam, who used DJ Khaled's beat, says, "I took his track and we remixed in a language that he understands and a language that many young people understand."
As of now, Khaled hasn't reached out to Hussam. "I don't imagine he will to be honest," he tells me. "I personally don't hate the guy at all," Hussam said, lightly. "I just needed to point it out, cause if I didn't then no one will."
UPDATE: A previous version of this piece said the Strauss Group removed IDF support from its website last month. It was in 2010.
Collier Meyerson is a reporter at Fusion with a focus on race and politics. She lives in Brooklyn.