The offer seemed too good to be true. Six years ago, well before College Park, Georgia, native OG Maco rapped for a living, he was a freshman at Georgia State University, and at the time a pint of codeine-promethazine cough syrup usually ran $600. Somehow, though, his college roommate had obtained a free bottle from a guy in their apartment building on Atlanta's east side. Maco hadn't really been interested in mixing syrup and soda to make the cocktail known as "lean," "sizzurp," "drank," "purp," "barre," or simply "syrup." But Actavis was the sipper's Moët—a drink with a real laid-back high that, if you drank enough without dozing off, promised a euphoric trip.
Fuck it, he said to himself.
Prior to his first sip, Maco—born Ben Ihesiaba Jr. to a Nigerian systems engineer—had tried over-the-counter Robitussin with friends. But it never deterred him from dreaming of a future beyond the confines of College Park. At first, he wanted to box, but he figured Mom wouldn't like him throwing punches, so instead he considered anesthesiology, where he could "make half a million a year by putting people to sleep." Ultimately, though, he grew fascinated with film scores, which eventually led to him producing songs.
In 2010, Maco enrolled at GSU to study film and philosophy. Outside of lecture halls, he tapped into the school's drug culture, experimenting with mushrooms and pills, and smoking daily up to a zip of weed, some of which he sold. Then came the sipping that initially was pretty low key. "It started off with adding just a two-liter bottle of Mountain Dew, and we kept going from there, to drink this pint," Maco says. "It seemed less dangerous than other shit."
As the school year continued, Maco's drug use progressed to the point where he was hosting "lung collapsers"—parties where, he explains, "you literally smoked until your lungs couldn't take it anymore" and sipped from a gallon of homemade lean. "I'd have my home girls stirring it up," he adds, "putting in Jolly Ranchers because, you know, girls can usually make shit taste a little bit better."
G/O Media may get a commission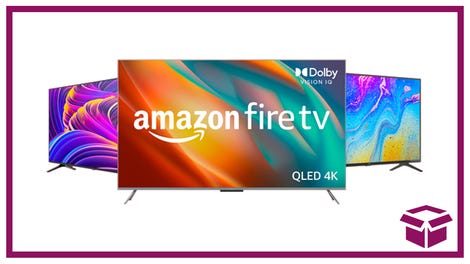 Ooh. stunning.
New Amazon Fire TVs
If a rapper's holding a Styrofoam cup—like in the videos for Future's "Codeine Crazy" or Young Thug's "Again"—there's a good chance it contains lean. In the early '90s, lean was nothing more than a local Houston cocktail. It's since become a drug du jour, first influencing Southern hip-hop, and later inspiring many of the world's biggest hip-hop stars. Today it's nearly everywhere: Migos and Gucci Mane have name checked it in songs; Lil' Wayne and Chief Keef have sipped on it in photos; Mac Miller and Kirko Bangz have hoisted it in videos.
But syrup's consumption has grown at an alarming rate, according to the Substance Abuse and Mental Health Services Administration. Between 2004 and 2011, hospital visits involving codeine-based cough syrup spiked 286%. Its popularity has ascended to the point where beverage companies have created grape-flavored "anti-energy" drink lines, including Drank and Purple Stuff, intended to emulate lean's depressive effects. As opioid abuse remains undertreated—according to the White House, less than half of the nation's 2.2 million opioid addicts have access to addiction services—limited options are available for sippers.
The nation's purp problem has forced some artists, including OG Maco, to rethink their use of the drug altogether. Household rappers have started swearing off the opiate-based cocktail faced with its consequences, though some still embrace the drug. Public outrage has forced syrup's top brand off the market. Lean's grip on rap, however, remains tighter than ever.
"No one realizes that lean is liquid heroin," Maco says. "I hate lean."

🍇🍇🍇
The kind of cough syrup Maco sipped has three active ingredients: codeine, the world's most-widely used opiate, which triggers the same brain receptors as heroin; promethazine, an antihistamine that can make a person tired; and alcohol. The Food and Drug Administration guidelines call for one teaspoon every four hours, no more than six doses in a day, with further consumption leading to a high.
"Have you ever taken a shitload of Benadryl?" says Jarren Benton, a Decatur, Georgia-based rapper who has experimented with syrup but no longer sips. "That kind of a fucked-up and cool feeling, but going into an on-and-off sleepiness, if you do too much of it."
Lean's high comes with minimal downsides for first-time users: drowsiness, slurred speech, or loss of coordination. Like any other drug, sippers build up a tolerance. Inevitably, the more you sip, the more it can jeopardize your health. "Your stomach starts getting bloated and you're shitting pebbles," says OG Ron C, co-founder of Houston-based Swishahouse Records. Enough syrup can slow one's heart rate, depress the respiratory system, or trigger brain seizures.
Ronald Peters, a retired professor at the University of Texas Health Science Center, traces lean's roots back to the '50s when Houstonian bluesmen mixed syrup with beer. Mixers evolved to wine coolers, and later soda, to mask the taste. It was easy to get with a doctor's prescription, and cheap with an insurance card. It became so readily available, Peters says, that "it was normalized like going to a bar."
In the early '90s, Houston's hip-hop scene emerged and, like many genres of music, its rappers found inspiration in their culture, which included recreational sipping. Robert Earl Davis, Jr., a mixtape legend who went by DJ Screw, invented a turntable technique called "chopped and screwed" in which he slowed the speed of a song—distorting the sound as if one were spinning a 45 record at 33 revolutions per minute—and sold the remixes. The rappers closest to DJ Screw formed a collective, called the Screwed Up Click, and together they cultivated a sound that, for many, emulated the slowed-down effects of syrup.
"The sound of DJ Screw goes perfectly with lean," says Lance Scott Walker, author of Houston Rap Tapes. "It also goes perfectly with the weather: Houston is hot, it's slow, you have to drive everywhere. The slowed-down music…became associated with Screw."
Soon, syrup seeped out of Texas into the rest of the South. Barre, the street name for prescription syrup made by Barr Pharmaceuticals, became the gold standard. It was cheap in 1993: A bottle cost roughly $100 and a two-ounce dose ran roughly $20. By the decade's end, the drug influenced Southern hip-hop in a way that resembled the effects LSD had on '60s rock, heroin on '70s punk, and molly on modern EDM. In 1999, Houston rapper Big Moe recorded City of Syrup, a purple-drank concept album with songs named "Barre Baby" and "Leanin'." Pimp C, one-half of Houston rap duo UGK, rapped about "sipping daily" on Jay-Z's hit, "Big Pimpin'." But Three 6 Mafia effectively introduced the drug to the world with its 2000 anthem, "Sippin' on Some Syrup."
The same year sipping went mainstream, DJ Screw died at 29 from a codeine overdose. As Houston mourned DJ Screw, George Fallieras, medical director of Start Fresh Recovery addiction center, says pharmaceutical companies lobbied doctors to treat pain, directly marketing the benefits of drugs ranging from syrup to Percocet to consumers, while skimming over the drugs' highly addictive potential. According to Peters, the codeine craze reached a new level when Houstonians were buying more cold medicine in the summer than in the winter.
In the early '90s, DJ Lil' Randy, a member of the Screwed Up Click, was unaware of syrup's insidious side effects. "It had such a different effect on your body and mind," he recalls. "Everything was slowed down." It helped inspire many late-night mix tapes made at DJ Screw's house, he says, with what seemed to be minimal legal risks.
But one night in 1998, Lil' Randy was driving home when lights flashed in his rearview mirror. Stopped for allegedly running a red light, the officer searched his vehicle, seized a roughly half-filled pint, and arrested him for possession of a controlled substance. Because Lil' Randy lacked a prescription, he received a five-year sentence, pausing his music career. Life behind bars also meant life without lean.
"I didn't know I was addicted until I had to get off of it," says Lil' Randy, who has since resumed his hip-hop career without the drug. He credits kicking his old habit for his increased musical output. Now he's able to finish six or seven tracks in a night, compared to one before his arrest. "I had withdrawals like a heroin addict. I couldn't sleep. I couldn't eat. My body could not function. Given the fact that I was incarcerated, I didn't have a choice but to be without it."

🍇🍇🍇

Since those days, lean has poured beyond the South. A 2014 Project Know study found that codeine references more than tripled in rap songs between 2000 and 2007. Universal Records released official ''chopped and screwed'' remixes of its archives. Artists including Big Moe, Mike Jones, Lil' Flip, and Paul Wall made frequent syrup references en route to critical and popular acclaim. Lil' Wayne, a well-known sipper who's struggled with addiction, raised the profile of the drug for better, with songs like "Me and My Drank," and for worse, landing in the hospital following a 2013 seizure believed to be result of lean.
"When [Lil' Wayne] went to the hospital, it's like it went to a whole other world," says Three 6 Mafia co-founder DJ Paul. "It's like a whole new monster now."
Bill Elwood of the National Institute of Health, one of the first academics to study the prescription syrup's misuse, says the drug's federal approval helped fuel its recreational use. In the summer of 2008, Barr Pharmaceuticals cashed out with a $7.46 billion buyout. Three years ago, Watson Pharmaceuticals purchased the Swiss-based drug manufacturer Actavis Group, which made its namesake cough syrup and other generic drugs, for $5.9 billion. The company subsequently changed its name to Actavis, Inc. Around that time, celebrities such as Chris Brown and Rob Kardashian, as well as several former professional football players, were reportedly sipping on the drug.
"Justin Bieber and a few other artists of high caliber started getting caught with this high caliber of drink," 2Chainz said in a recent Drink Champs interview. Three years ago, the College Park rapper, who named his breakout record Codeine Cowboy, ran into trouble when Los Angeles airport authorities found marijuana and promethazine in his luggage. He later pleaded guilty to misdemeanor possession of a controlled substance that required him to complete an 18-month drug diversion program.
Besieged by backlash, Actavis (which has again changed its name, this time to Allergan) voluntarily discontinued its cough syrup in 2014. By that time, the nation's opioid abuse rate had escalated to the point where more than 6.5 million people abused prescription drugs, according to one federal report. The U.S. Drug Enforcement Administration's figures show that one in 10 American teenagers have sipped either over-the-counter or prescription syrup. With Actavis gone, Maco says, he's seen dealers tinker with homemade lean recipes made from pure codeine and promethazine, mixed with corn syrup and purple coloring. Peters says similar efforts in Houston earned the drug a new nickname: Watson.
For veteran Houston rappers, once syrup's biggest champions, lean's sweet taste has soured. In December 2007, two days before UGK's received its second-ever Grammy Awards nomination for "Int'l Players Anthem (I Choose You)," well-known sipper Pimp C died at age 33 following an accidental overdose that exacerbated the side effects of his sleep apnea. Pimp C's collaborator, Bun B, called on Houston's rap scene to "try to figure out how to do something a little bit new" after seeing syrup's toll firsthand. Eventually, some local rappers toned down references to the drug in their songs. Lil' Keke, a rapper who was part of DJ Screw's old collective, now considers syrup to be as insidious as cigarettes with minimal short-term harm and major long-term hazards.
"The worst is yet to come," Lil' Keke says.

🍇🍇🍇

Maco watched the worst arrive as artists noticeably struggled with addiction (Gucci Mane, Mac Miller) and survived seizures (Wayne, Rick Ross, and Rich Homie Quan) supposedly tied to syrup abuse. More recently, A$AP Yams, co-founder of New York hip-hop collective A$AP Mob and a well-publicized user of codeine and xanax, died in January 2015. New York's Chief Medical Examiner's office ruled his death an accidental drug overdose due to opiates and benzodiazepine. Maco, a friend of Yams, says the two had discussed a potential collaboration. After his death, Maco vowed to stop making music that propagated syrup and, in a series of tweets, encouraged others to do the same, writing in a now-deleted tweet: "Put the codeine down. Put the Hi-Tech down. Put the Qualitest down. Put the Actavis down. Please."
By the time Yams died, Maco hadn't messed with lean for several years. At the height of his sipping, it grew into a daily ritual; sometimes done recreationally with friends, other times to manage the stress that came with school and a string of jobs both legal (being a manager at L.A. Fitness) and not-so-legal (hustling in the streets). Occasionally, he'd drink a whole a pint in a single day. Though he still managed to write hundreds of songs, tracks either went unrecorded or suffered as syrup disrupted his cadence in the studio.
"[With some early songs], I'd be drinking from the cup right then, but I would realize my timing was off," Maco says. "I couldn't stay on the beat—and I hate metronomes, the little fucking noise gets on my nerves, and annoys the shit out of me—so I wouldn't record. I'd just wait until tomorrow."
Thus lean, a drug that kickstarted some careers, came to deter Maco's creative process. In 2012, Maco swore off syrup to focus on his music. The emerging artist found his flow, laid down more tracks, and eventually dropped a single, a visceral two-and-a-half-minute cut called "U Guessed It," that went viral. With the help of a low-budget video, one that fans have watched 48 million times, Maco cracked the Billboard Hot 100 chart in the summer of 2014. That eventually led to a deal with Quality Control Records, who along with Motown/Capitol Records are expected to release his forthcoming debut LP, Children of the Rage, sometime this fall.
"I became a better artist [without lean]," says Maco. "I was stopping myself from reaching [mainstream] exposure with this shit."
Not every artist is so lucky. A few years earlier, Houston rapper Kirko Bangz had released "Drank in My Cup," the 2011 anthem that led to an Atlantic Records deal. However, his debut album, originally slated for release in 2014, still hasn't hit the shelves, in part due to the amount he sipped. "I was on that drank heavy," he said. "I didn't want to go to the studio. I didn't want to do a lot of things."
Bob Forrest, an addiction specialist formerly featured on VH1's Celebrity Rehab who now works with Acadia Malibu treatment center, says addiction services overall are more accessible for musicians than when he sought treatment for heroin in the '90s. On a national level, President Barack Obama has called for the national expansion of opioid treatment—recruiting Macklemore, a recovering addict who's rapped about his past sipping, to proselytize the White House's prescription drug abuse agenda. But for those struggling with sipping, Debbie Carroll of the Grammy-affiliated nonprofit MusiCares says, addiction services tailored to the drug is difficult to come by.
🍇🍇🍇

Today the cost of Actavis has skyrocketed to where a single pint can cost upwards of $3,000. The shortage has made codeine-promethazine syrup worthy of heist: Lab technicians stole 110 gallons of prescription syrup from an Atlanta hospital, an 18-person crime ring filled prescriptions with a San Diego doctor's stolen pad, and three men allegedly robbed the drug from dozens of Miami-area pharmacies in a year's time.
Sitting in his bedroom in College Park, Maco underscored the demand by singing a line from one Future's woozy trap ballads: "It's hard to come by some Actavis, now we drinkin' that red now." The lyrics are from "Where I Came From," a piano-laced cut off the Atlanta rapper's mixtape Beast Mode, that goes on to describe a scene where he's "pourin' the lean like it's straight Corona." Given lean's costs, Maco says rappers have to be making "at least $10,000 to $15,000 a show" to fund the habit—a pricey proposition for anyone, let alone if tragedy strikes, like it did last month when a car wreck cost Maco the use of his right eye. The rising prices have forced artists to either open up their wallets, an option likely to drive most broke, or to drink lower-quality brands, which come with less desirable highs.
"When you drink lean, it's a community drug," Maco says, "So you're not really going to drink all [of a pint] by yourself, you're going to pour for all your friends."
In July 2015, Future followed up Beast Mode by with his bestselling full-length, Dirty Sprite 2, a prominent nod to lean that went platinum in a year's time. Days before its release, Maco tweeted that Future, one of his favorite artists, had "destroyed countless lives by making it cool to be a drug addict." The tweet spurred a brief social media spat fueled by the coverage of music journalists. Maco says the two cleared the air over the phone, though his point still holds true.
"I wasn't saying that Future is a fucking evil person," Maco says. "I didn't mean Future has directly destroyed countless lives—I meant Future's influence has."
A few months earlier, Maco had seen syrup's influence hit closer to home when police arrested his labelmates Quavo and Offset, two-thirds of hip-hop trio Migos, after finding a cache of guns and drugs, including a bottle of lean, in a pair of vehicles parked at Georgia Southern University. Facing multiple felonies, they pleaded guilty to lesser charges. While some rappers have moved away from sipping, there are others who carry on at the pace of a chain smoker, Maco says. However, at a time when purple can go platinum, Maco's calls to stop sipping aren't as sweet as, say, a slow-motion jolly rancher.
"It's not a joke—it's heroin," Maco says. "You can ask anyone at my label, I'll come in and will be like, 'Hey bruh, you're drinking herr-onnn. You're all hooked on herr-onnn.' They hated when I said it. But they know it's the truth."
Max Blau is an Atlanta-based journalist who has written for the Guardian, Rolling Stone, and Washington Post.