It's every female cat owner's worst nightmare: Getting a kitty fur ball stuck inside her vagina.
Okay, maybe not. But this allegedly happened to one woman who described her ordeal in an essay for xoJane titled It Happened to Me: My Gynecologist Found a Ball of Cat Hair in My Vagina.
In the essay, blogger Michelle Barrow describes feeling an ache in her lower abdomen. When she sees a gynecologist, the doctor discovers a mysterious mass inside her vagina and fetches scissors to cut it out. Eventually, the doctor and a subsequent lab test conclude the mass is a cluster of tampon fibers that got stuck to her IUD.
Barrow rarely uses tampons, however (she's a "Diva Cup girl"), and is convinced the mass is straight-up fur from her two cats. Her theory: Her cats spend a lot of time in her bed. She and her fiance have condom-less sex on the bed. His penis comes into contact with cat hair. Cat hair is inserted into her vagina.
As the story went viral on Wednesday, naysayers began to publicly doubt the author's assessment. Some even thought the essay was a hoax. But Barrow stood by her experience in an interview with New York Magazine on Thursday, remarking, "I just think it's amazing, the sheer number of crazy things that can go wrong with vaginas."
G/O Media may get a commission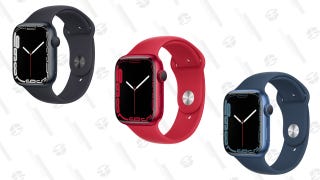 Up To $45 Off
Apple Watch Series 7
Whether or not the mass was cat hair, Barrow has now planted the notion of such an occurrence in the minds of cat-loving women everywhere. But is this really a thing? Do ladies with furry pets need to be on vaginal alert?
Alyssa Dweck, an OB/GYN at the Mount Kisco Medical Group in Westchester, New York, told Fusion that she agreed with the doctor's assessment, but noted that "only the patient would know for sure."
Others were more skeptical. "I would think the hair ball could have been analyzed for its origin more thoroughly. I would think they would have looked close enough to distinguish hair from synthetic fiber," said Chesney Thompson, a professor of obstetrics and gynecology at The University of Colorado. "I doubt cat owners have anything to worry about."
Speaking of distinguishing cat hair from synthetic fiber, is it possible the lab got it wrong?
"A reputable lab with ability to test for these items should be able to distinguish the two," said Dweck. Of course, there's always a caveat: "If the tampon was somehow contaminated by cat hair prior to use, testing might be inconclusive."
But how common is it for a woman to go weeks without realizing she has a tampon stuck inside of her? "Tampons or remnants thereof are not uncommon," said Colorado's Thompson. "Usually removal is adequate in terms of treatment. Although there could be associated symptoms that might require therapy such as treating an infection."

Just for fun, Fusion also reached out to Barry Baum, a veterinarian at Center Sinai Animal Hospital in Los Angeles, to get an entirely different perspective. After a good laugh, Baum said a fur ball in the vagina "depends on the relationship between the cat and her mistress." Touche.
So all you cat lovers out there—you're probably safe. But you might want to buy your furry love a bed of its own anyway.
Taryn Hillin is Fusion's love and sex writer, with a large focus on the science of relationships. She also loves dogs, Bourbon barrel-aged beers and popcorn — not necessarily in that order.