About a week after the Village Voice decided it would end its 62-year run in print and become an online-only operation, the newspaper announced it would also lay off 13 of its 17 remaining union employees. It's the latest move in the once-vaunted alternative weekly's slow transition to a bloodless digital media brand.
The New York Times first reported news of layoffs at the already atrophied publication, which employs about 40 people. From The Times:
A spokesman for the Voice said in a written statement, "The staff reductions initiated yesterday are part of a larger set of budget cuts aimed at reallocating resources as we reconfigure The Village Voice into a digitally focused company."

She added, "The overwhelming majority of the employees affected are on the business side and in positions primarily tied to the selling and production of the print paper."
In other words: The departing staffers are dead weight dragging down the company's digital evolution. They all just happen to be union members. Their departures will coincide with the newspaper's final print issue, The Times reports, which is due out in late September.
On Thursday night, the Voice's union disputed the notion that the layoffs were part of a broader strategic push onto the internet:

G/O Media may get a commission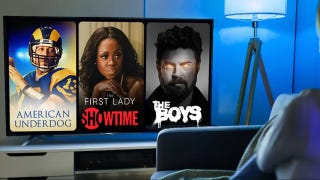 UNDER $1
99¢ Prime Video Channels
The layoffs come after a bitter struggle between the Voice's union, which has represented workers there for 40 years, and management. As Splinter's Hamilton Nolan reported in June, the latter proposed a new contract that would institute draconian changes to an already diminished workplace:
Eliminating any effort at affirmative action; slashing child care leave, benefits to pregnant women and parents, and educational assistance; eliminating all severance pay; eliminating any ability of staffers to negotiate for their own health care; barring new workers from joining their colleagues in the union; and stopping union employees from visiting workers at work.
They also follow an open letter from more than 60 former Voice staffers to the paper's owner, pleading with him not to weaken the union.
The labor dispute escalated under the leadership of a deep-pocketed owner, Peter Barbey, a clothing magnate who bought a $26 million Manhattan apartment after taking over the Voice. When Barbey purchased the paper in 2015, he told Politico that its progressive views aligned with his own, adding,"It is one of America's great newspaper brands in terms of potential by the pound. I unequivocally believe there's great value in the Village Voice brand."

Add him to the long list of rich men who say all the right things upon their purchase of struggling publications, then move to gut them. Journalists at such outlets may profess a superhuman penchant for skepticism, but well-heeled benefactors satisfy their personal search for saviors of a flailing industry. We all want to be rescued. But for every Jeff Bezos, who has more money than god and has given The Washington Post real runway to reinvent itself, there is at least one Chris Hughes, who set The New Republic back years, perhaps irrevocably.
More self-styled white knights will emerge as companies that produce the majority of the country's journalism continue bleeding money. While I'll grant you that there are few good alternatives in the face of an extinction-level event, we'd all be better if we put the guardian angel myth to rest.
I've reached out to Barbey for comment and will update this post with any response.