On Sunday night, a gunman opened fire at a concert in Las Vegas near the Mandalay Bay Casino, where an estimated 22,000 people had gathered for a country music show. Early estimates have put the death toll at more than 58; an additional 515 were injured. When the SWAT team arrived on the hotel's 32nd floor, they found 19 weapons stashed in the dead shooter's room.
At press time, the motive for Sunday's shooting is unknown, though the FBI has refuted earlier claims that the massacre was connected to ISIS. (Whether it qualifies as an official act of terror is another important question entirely.) But the suspect, Stephen Paddock, had come from Mesquite to Vegas to gamble before according to family members. And given how data-hungry the average Vegas casino is, his movements had probably already been extensively tracked by the time he arrived in the city this time around.
Nevada is a conceal-carry state; concealed weapons and machine guns are both legal there. Still, it's worth noting that in one of the country's most camera-saturated cities, none of the all-seeing crime-prevention devices happened to flag a man who brought 19 weapons with him to the Strip.
Vegas is one of the most heavily surveilled cities in the country, particularly in the area where Sunday's shooting occurred. Like many U.S. cities, Vegas has invested heavily in surveillance as a counter-terrorism measure in the last decade. And, like many cities before it, Vegas has found that the usefulness of dragnet data collection to deter or prevent mass acts of violence is wildly overstated.
G/O Media may get a commission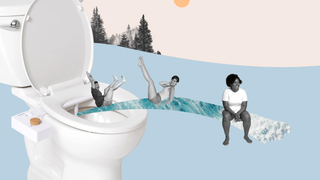 17% off
Tushy 3.0 Warm Water Spa Bidet Attachment
As is documented in a 2014 story in the Las Vegas Sun about the city's increasingly wide-ranging surveillance apparatus, the patchwork of private security cameras, casino data collection tools, and local police initiatives—like a pilot program allowing the cops to man cameras inside of businesses like convenience stores—means virtually every corner of the resort district is being recorded and logged in a given moment.
In 2013, Nevada outfitted the Strip's "real-time crime center" with an additional 37 pivot-and-zoom cameras with a $350,000 federal grant. And as a surveillance expert told the Sun, most casinos on the strip are running thousands of cameras already: "Casinos have 100 percent coverage of virtually every square inch," he said. In the highways around Vegas, there are still cameras every half-mile. "Loss-prevention" recording devices stalk the Strip's employees in the back-of-house.
And still, while the footage will be rewound and analyzed in the coming weeks, acquired by the press, and used to model future scenarios, none of those cameras stopped a man from walking into the Mandalay and stocking a small arsenal of automatic weapons in his hotel room.
We saw how impractical blanket surveillance was during the Boston Marathon bombing, when it took three days for the city's police department to watch the thousands of hours of tape its massive (and extremely secretive) CCTV program logged. Or, more recently, through what's happening in London, where lax privacy laws and omnipresent cameras haven't prevented a rash of high-profile terrorist attacks. Not that this revelation is a new one, considering that London police estimated almost a decade ago that for every 1,000 security cameras installed, only one crime was solved.
Yet after the final tallies of the injured and dead roll in and the final official reports are logged, it will most likely be increased surveillance—not more restrictive gun laws—that will be offered as a solution to the mass shootings that are plaguing the United States.
For more news from Splinter, follow us on Facebook.
This story has been updated to reflect new information about how many weapons were found in Paddock's hotel room.