Way back in 2003, a Jim Beam warehouse in sleepy Bardstown, Kentucky, was struck by lightning and as a result close to one million gallons of bourbon, the brownest of the brown liquors, escaped and flowed into a nearby retention pond.
At the same time, a forest fire began when another bolt of lightning struck the ground and the fire was right in the path of a tornado, so boom: WHISKEY FIRENADO.
Clearly, God was not happy with Kentucky on that day.
All told, 800,000 gallons of bourbon went up in flames, creating a Mordor-esque bourbon conflagration in the heart of Kentucky. Look at this thing!
G/O Media may get a commission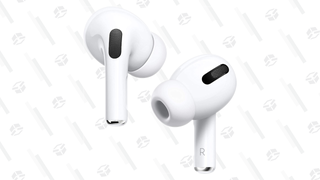 28% Off
Apple AirPods Pro Wireless Earbuds
Righteous. Just righteous.
It took first responders three firetrucks and several hours to extinguish the flames.
At the time, Kentucky Department of Fish and Wildlife environmental section chief Wayne Davis told The Associated Press that "if there's any alcohol or if there are any byproducts that wash into the stream from the structure fire, that could wind up being harmful to the aquatic life."
Davis was right. The Daily Mail, reporting this story like it happened just yesterday and not 12-years-and-one-month ago, says the liquor company faced $70,000 in fines for polluting the water.
They only had to pay $26,732.33.
"The company's proactive measures to minimize the flow of bourbon into the waters of the Commonwealth, along with heavy rains soon after the fire helped limit the damage," said Benjy Kinman, director of the state's department of Fish and Wildlife. (Editor's note: Always a good idea to reduce the effects of bourbon by staying hydrated.)
At last check, Kinman was being pressured to resign as Deputy Commissioner of the agency (he got promoted!) amid allegations that he abused his power. That was in 2014.
Long story short, extreme weather is awesome to watch from afar and God must prefer Scotch.
David Matthews operates the Wayback Machine on Fusion.net—hop on. Got a tip? Email him: david.matthews@fusion.net