The ongoing controversy over missing girls in Washington, DC has highlighted a deep divide between the city's African American community and its police department.
The DC police credit an enhanced social media strategy with creating greater urgency around the missing teens—who are mostly black and Latinx. But concerns have been raised about whether city officials are doing enough to ensure that adequate resources are harnessed when a young person of color goes missing.
Video from a March 22 town hall meeting about the missing girls, attended by Mayor Muriel Bowser and Acting Police Chief Peter Newsham, underscores that tension. A member of the predominantly black audience asked a member of the panel why Amber alerts—city-wide alarms sent directly to residents' cell phones—were not utilized for the teens who went missing this past month.
The spokesperson said that there needed to be "imminent danger" for an alert—an answer that did little to satisfy the crowd.
G/O Media may get a commission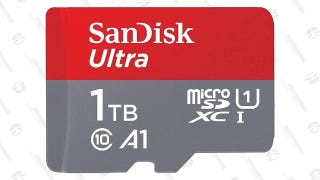 Save $75
SanDisk Ultra 1TB MicroSDXC Card
The distrust speaks to broader issues people of color have with the police—particularly, the perceived neglect from both law enforcement and the media when black and Latinx teens are the victims of crimes. And there's data to back up those concerns. Nationwide, clearance rates for homicides for black victims are lower than they are for white victims. In New York City, for example, police solved 86% of homicides with white victims in 2013, while the clearance rate for black victims was only 45%.
Officer misconduct is also an issue. As Yesha Callahan mentioned in The Root, a case where a DC police officer ran a prostitution ring is still fresh in the minds of area residents, who fear human trafficking may be one reason the city's teens are disappearing.
But according to the DC police department, there's been no increase in missing persons this year. Officials say the number of missing persons cases has actually gone down month to month in 2017 compared to last year. The Washington Post, citing data from the police department, reports that the cops logged 501 cases where a young person went missing so far this year. Now 22 cases remain open.
Of course, as both residents and police acknowledge, that's 22 too many. And people of color around the country, including members of congress, have called for greater accountability, resources, and transparency from law enforcement and the media when it comes to their treatment and investigation of these cases.