Three transgender teenagers in Pennsylvania must be allowed access to bathrooms at their school that match their gender identities, a federal judge ruled on Monday.
The lawsuit, brought in October by Elissa Ridenour, Juliet Evancho (sister of the singer at President Donald Trump's inauguration), and one other unnamed trans teen, alleges that the Pine-Richland School District was violating their civil rights under Title IX and the equal protection clause of the Constitution.
U.S. District Court judge Mark R. Hornak issued a preliminary injunction suspending the school district's rule, which took effect in September last year, denying transgender students access to bathrooms that match their gender identities. From Wednesday, transgender students at the school will be allowed access to those bathrooms.
"It's very surreal, we can't believe this is happening because we've been dealing with this for months," Ridenour, who is now a high school senior, told Fusion on Tuesday. "I really didn't think that I would be graduating as a female who had the right to use the bathroom that she identified with."
The judge noted that for several years prior, the three students had been using the bathroom that aligned with their gender identities without incident, and that the school district's rule appeared to violate their rights under the equal protection clause of the Constitution. He issued the injunction because, he said, they were likely to succeed in overturning the school's policy on those grounds.
G/O Media may get a commission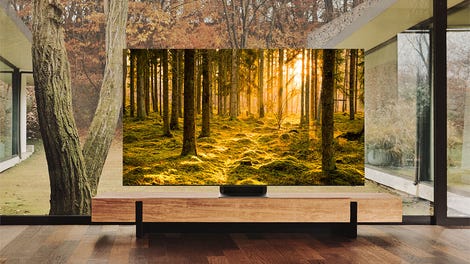 Up to 40% off
Samsung Smart TVs
"The Plaintiffs appear to the Court to be young people seeking to do what young people try to do every day-go to school, obtain an education, and interact as equals with their peers," Hornak wrote in his decision.
The Pine-Richland School District confirmed to Fusion that the district would comply with the District Court's ruling.
The judge did not address the question of whether Title IX anti-discrimination protections implicitly include gender identity—that's the question that will go before the Supreme Court this year in another case, Gloucester County School Board v Gavin Grimm.
"This is an important reminder to schools that it is not just Title IX that requires them to treat students with dignity and respect and respect that gender identity of transgender students but it is also a constitutional requirement, one that applies to every single public school district in this country regardless of whether they receive Title IX funding or not," Omar Gonzalez-Pagan of Lambda Legal, one of the lead attorney representing the students, told Fusion.
Last week, the Trump administration rescinded guidelines issued under President Obama that instructed school districts to provide trans students access to bathrooms aligned with their gender identities. LGBTQ advocates and lawyers have said that they believe the change in federal guidance doesn't change that transgender people's rights are protected under civil rights law.
Ridenour said that despite this week's victory with her school district, the administration's reversal of support for trans students has her worried about what her future will look like.
"It's stressful and difficult because I'm going off to college next year so it's like, 'Will they go along with what the president says?'"
And she had a few words of advice for other trans students who might be dealing with restrictions at school now or in the coming years. "Know that you are equal like everybody else. You have the right to be the person that you are. Just don't give up hope … We've been through this long enough."
Following the move from the Trump administration, performer Jackie Evancho, who sang at Trump's inauguration, called on the president to meet with her transgender sister Juliet to discuss transgender rights.
This post has been updated with comments from Elissa Ridenour.