On Monday, the Trump administration announced that it would not be extending its waiver of the Jones Act for Puerto Rico, despite urgings from lawmakers and critics who have insisted that the lifting of the rule is crucial for the island's recovery from Hurricane Maria.

"We believe that extending the waiver is unnecessary to support [Puerto Rico's] humanitarian relief efforts" a Department of Homeland Security spokesman said. "There is an ample supply of Jones Act-qualified vessels to ensure that cargo is able to reach."
President Donald Trump had initially resisted waiving the Jones Act—which limits shipping between American ports to American made, staffed, and owned ships—before finally agreeing to temporarily lift the restrictive measure on September 28, following intense pressure by Puerto Rican officials, and other lawmakers, including Arizona Senator John McCain.
However, administration officials nevertheless insisted that the restrictive rules regarding shipping between American ports were not to blame for the trouble distributing emergency supplies to Puerto Ricans suffering in the storm's aftermath.
"The limitation [in delivering emergency supplies to Puerto Rico] is going to be port capacity to offload and transit, not vessel availability," a Customs and Border agency spokesman said at the time. And, in fact, damaged roads, gasoline shortages, and staffing issues did present a significant challenge for emergency ration distribution once ships managed to reach Puerto Rico's ports.
G/O Media may get a commission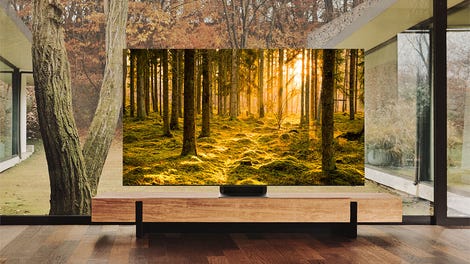 Up to 40% off
Samsung Smart TVs
Now that that waiver has expired, the flow of goods into Puerto Rico will once again be limited by the act, creating a supply bottleneck that has historically driven up prices for basic goods on the island. (A 2010 study conducted by the University of Puerto Rico calculated that Puerto Rico lost approximately half a billion dollars annually as a result of the Jones Act.)
This comes as Puerto Rico continues to struggle to regain basic necessities like clean drinking water and electricity and tries to look ahead toward the long and difficult task of rebuilding.
Some lawmakers, including McCain, have argued for exempting Puerto Rico from the Jones Act altogether—as has already been done for other U.S. territories. Speaking with HuffPost after hearing that the Trump administration would not extend the waiver, Senator McCain said:
Now that the temporary Jones Act waiver for Puerto Rico has expired, it is more important than ever for Congress to pass my bill to permanently exempt Puerto Rico from this archaic and burdensome law. Until we provide Puerto Rico with long-term relief, the Jones Act will continue to hinder much-needed efforts to help the people of Puerto Rico recover and rebuild from Hurricane Maria.