Welcome to WHAT NOW, a morning round-up of the news/fresh horrors that await you today.

The Trump administration has hired a woman dedicated to rolling back transgender bathroom access for a senior role in an office dedicated to promoting gender equality abroad.
Bethany Kozma, who worked in the the Department of Homeland Security and the White House during George W. Bush's presidency, is now the "senior adviser for women's empowerment" in the Gender Equality and Women's Empowerment division of the U.S. Agency for International Development, BuzzFeed News reported late Thursday.
In July 2016, Kozma wrote a story for The Daily Signal, a blogging arm of the conserative Heritage Foundation think tank, calling for like-minded people to join her crusade against trans kids using the public restrooms that correspond with their gender identity, as well as the Obama administration guidelines that supported them:
To put it simply, a boy claiming gender confusion must now be allowed in the same shower, bathroom, or locker room with my daughter under the president's transgender policies. When I learned that predators could abuse these new policies to hurt children in school lockers, shelters, pool showers, or other vulnerable public places like remote bathrooms in national parks, I realized I had to do something.
G/O Media may get a commission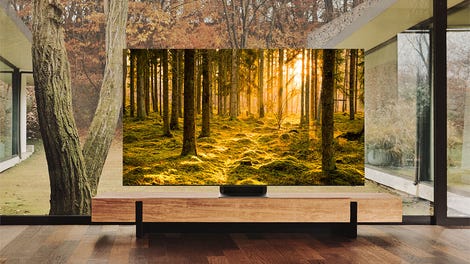 Up to 40% off
Samsung Smart TVs
The Trump administration rolled back the guidelines shortly after Trump's inauguration.
With a climate denier running the EPA and a charter school-loving billionaire tasked with running our public schools, Kozma should feel right at home.
WHAT ELSE?
The bulk of Trump's Muslim travel ban is now in effect. Its implementation has already been far less chaotic than its earlier incarnations, which sparked chaos in airports around the country and nationwide protests.
The German Parliament voted overwhelmingly to legalize gay marriage. But Chancellor Angela Merkel, the one members of the #resistance deemed the new "leader of the free world," opposed the measure.
Mika Brzezinski and Joe Scarborough, MSNBC's Morning Joe co-hosts who are engaged to be married, responded to the president's unhinged tweets on Thursday morning with an op-ed in The Washington Post, where they wrote that Trump is "not mentally equipped" to watch their morning talk-a-thon. The duo also said it's "false" that they showed up at Mar-a-Lago, with Brzezinski "bleeding badly" from a facelift.