Last week, The New York Times reported that at least 74 Deferred Action for Childhood Arrivals renewal applications from New York City and Chicago were delayed because of a slowdown with the U.S. postal service. But the problem looks to be far worse than previously thought.
Now immigrant rights groups like Make the Road New York and the National Immigration Law Center are suing the Trump administration over DACA recipients whose paperwork they say was in by the deadline but got rejected anyway. On Wednesday, Dara Lind at Vox, who interviewed the lawsuits' plaintiffs and immigration lawyers, reported at least 19 cases in which renewal applications arrived in a United States Citizenship and Immigration Services mailbox on October 5, the deadline day, but were marked as "received" on October 6, making them late.
According to Vox: "The scale of the problem indicates there are likely to be dozens or hundreds more, and that applications sitting in the mailbox on October 5 could represent a substantial portion of the 4,000 DACA renewal applications the government says it received late."
As the Times revealed, some of this can be blamed on the postal service, another government agency. A spokesperson for the USPS admitted that there had been an "unintentional temporary mail processing delay in the Chicago area." But the scope of this delay—and its unintended consequences—is even more extensive than previously reported by the Times. Although immigrants' rights groups are still trying to figure out how many DACA recipients have been affected by the delays, Vox reported the delay affected at least two states.
But Lind's reporting also provides evidence that the Trump administration is doing everything possible to twist the renewal process to work against DACA recipients. First, the administration insisted renewal applications be received—not just postmarked—by October 5 in order to be considered. Secondly, "received" doesn't simply mean arriving in the mailbox. Here's how Lind explained what should be a straightforward process:
When an immigrant sends an application to USCIS, she's actually sending it to be processed at one of a few service centers around the country — depending on what specifically she's applying for, and where she lives. But if she mails the application, she's not actually sending it directly to the service center. She's sending it to a PO box—a "lockbox"—whose contents are then picked up by employees of the Department of the Treasury and delivered to USCIS employees.
G/O Media may get a commission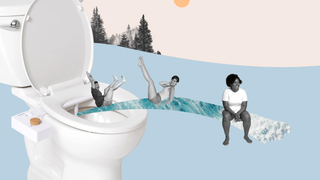 17% off
Tushy 3.0 Warm Water Spa Bidet Attachment
But according to Lind's reporting, some applications that arrived by 5:23 pm on deadline day weren't actually picked up until the next day and were subsequently rejected. This means the Trump administration's definition of "late" also included applications that were in USCIS mailboxes on deadline day but were not picked up by government employees until the next day:
Susanne Susany, a Pittsburgh lawyer, has a certified mail printout showing that her client's application "arrived at [the] unit" at 5:23 pm on October 5 and was available for pickup as of 5:41 pm, but wasn't picked up until 3:30 pm on October 6.
It's no surprise that the Trump administration would be doing everything it can to make it harder for DACA recipients to stay, despite posturing in support of the so-called "Dreamers." And it's become even more starkly clear that America's immigration system has few limits about how far it will go to deport residents who have lived in the country for years—even if you play the good immigrant game and get your renewal applications in on time.