In a mind-boggling preview of the next four years, President Donald Trump used his first day in office to bemoan media outlets that had the audacity to report that the crowd size at Trump's inauguration was dwarfed by Barack Obama's, reporting that his press secretary called "shameful and wrong."
As hundreds of thousands of Americans marched in cities across the country–with demonstrations in solidarity also happening around the world–Trump said "it's a lie" that only 250,000 turned out to the National Mall on Inauguration during remarks at the CIA headquarters in Virginia.
"We had a massive field of people. You saw that. Packed," Trump told intelligence officials. "I get up this morning, I turn on one of the networks, and they show an empty field. I'm like, wait a minute. I made a speech. I looked out, the field was, it looked like a million, million and a half people. They showed a field where there were practically nobody standing there. And they said, Donald Trump did not draw well."
He continued: "It looked honestly like a million and a half people, whatever it was, it was, but it went all the way back to the Washington Monument and I turn on, by mistake, I get this network, and it showed an empty field. Said we drew 250,000 people. Now, that's not bad. But it's a lie."
The newly minted administration wasn't letting the matter slip away, with Press Secretary Sean Spicer calling a press briefing–his first in the role–early Saturday evening to again litigate reports about Trump's underwhelming crowd.
G/O Media may get a commission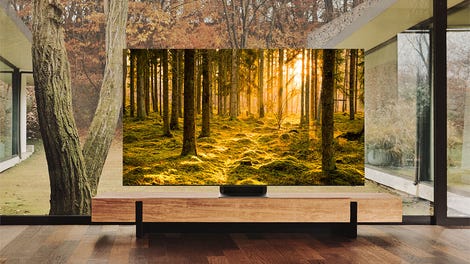 Up to 40% off
Samsung Smart TVs
A visibly amped-up Spicer took the White House reporters present to task for "deliberately false reporting," citing tweets from two (2) reporters. In one, a Time reporter claimed that a bust of Martin Luther King Jr. had been removed from the Oval Office but quickly apologized for the error, an apology that Spicer himself accepted.
Spicer then insisted that Trump's inauguration was the largest ever, even after noting that the National Park Service did not release crowd estimates for the event and offering no numbers of his own.
"These attempts to lessen the enthusiasm of the inauguration are shameful and wrong," he said, before going on to advise the journalists about details of Trump's CIA visit: "That's what you guys should be writing and covering."
Spicer took no questions, even as reporters shouted requests after him. Spicer did not mention the massive march in Washington.
The whole dust-up recalled Trump's unrelenting campaign trail gripe that the news media was not accurately reporting on the size of the crowds at his rallies.