Almost immediately after news broke that Donald Trump was rushed offstage by Secret Service at a rally in Reno, Nevada on Saturday, Trump's campaign began playing up what they described as an "assassination attempt." This is what actually happened: an unidentified person shouted that a man holding an anti-Trump sign had a gun.
Donald Trump Jr. and Dan Scavino Jr., Trump's social media director, both retweeted a claim by a man named Jack Posobiec, who has a habit of spreading fake news about Trump and his rival Hillary Clinton, that Trump returned to the stage after an "assassination attempt." Posobiec's fake news often gets picked up by larger platforms and makes it into the news cycle. He's a self-described "recovering political operative" and CBS News employee (I was unable to verify this) who is listed as the "Security and Special Projects Director" for a group called Citizens for Trump.
There was no gun, no assassination attempt. The man accused of having a gun, Reno local Austyn Crites, told the Guardian that he is in fact a registered Republican who opposes Trump's candidacy, describing Trump as "a textbook version of a dictator and a fascist." He showed up at the rally with a sign reading, "Republicans against Trump," which received boos from the audience as he moved through the crowd. Then, according to ThinkProgress, Trump spotted the sign from the stage and said, "Oh, we have one of those guys from the Hillary Clinton campaign. How much are you being paid, $1,500? All right, take him out."
Trump supporters immediately began converging on Crites after Trump's clear direction to "take him out," and shortly thereafter an unidentified person shouted that Crites had a gun. The Secret Service immediately rushed Trump offstage.

WATCH: Donald Trump rushed off stage by Secret Service agents during event in Reno, Nevada. https://t.co/PXCTYaDaeJ pic.twitter.com/Zf8ORObAQt
— ABC News (@ABC) November 6, 2016
The Secret Service and Reno police handcuffed Crites, took him to the back of the auditorium, and searched and questioned him. After realizing he posed no threat to anything aside from Trump's ego, they released him, according to CNN. Crites told the Guardian that he's mostly fine aside from back pain caused by being attacked by a mass of Trump supporters.
G/O Media may get a commission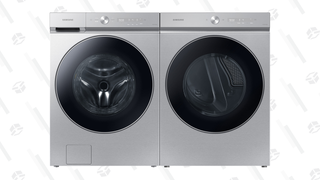 Get $500 back in credit
Last Chance: Samsung Bespoke AI Washer and Dryer Preorder
Trump returned to the stage shortly after the scuffle with Crites, boasting about how he survived the nonexistent threat. "Nobody said it was going to be easy for us but we will never be stopped," he said.
Appearing on CNN's State of the Union Sunday morning, Trump campaign director Kellyanne Conway deflected anchor Jake Tapper's question as to whether members of the Trump campaign should be spreading misinformation about false assassination attempts.
"In the closing days, especially as the polls tighten, many of us are getting more death threats, angry messages on social media and elsewhere, and it's a pretty fraught environment. That's the real focus there," Conway said, avoiding Tapper's question.
She referred to Trump's response as "nimble and resilient," saying she "excused" Donald Trump Jr. for sharing misinformation because "it's pretty rattling." Conway accused Crites, who acknowledged in a Facebook post that he has canvassed for Hillary Clinton, of being a Democratic operative or plant.
When pushed by Tapper to address the misinformation being spread, she attempted to turn it back on him, calling for CNN to retract its coverage that the path to a Trump presidency has been closed. "You guys retract that, and I'll give a call to Dan Scavino about the retweet," she said.
Sam Stecklow is the Weekend Editor for Fusion.