One of the most well-traveled media narratives of the Trump presidency has been the one about the moderating influences that save Donald Trump from himself. First it was Ivanka Trump and Jared Kushner, who were portrayed almost as closet Manhattan Democrats. Then it was a cascade of mostly short-lived aides, including Chief of Staff John Kelly, one of Trump's hallowed generals. Rob Porter, a twice-alleged domestic abuser, even made the all-moderation team's roster.
That narrative has now, mostly, faded. The Washington Post reported Sunday that Kelly's "credibility and his influence have been severely diminished" in the West Wing, along with them his "mandate to bring order." New York Times editor Dean Baquet likewise admitted that the notion of such moderating factions hasn't held up on CNN's Reliable Sources: "All of us made the mistake of saying, [Kelly] is a guy that's going to calm things down." (Editor's note: not all of us.) And on Monday, The Associated Press added its own take—based on interviews with 10 current and former White House officials—on how Trump "is increasingly at odds with his staff."
So where does that leave Trump's aides—and the rest of us? The AP continues (emphasis mine):

Managing a boss who despises being managed is a difficult game. And those who have succeeded have proceeded carefully. Some aides, convinced that Trump puts more stock in what he sees on TV than in his own aides' advice, regularly phone prominent commentators and news hosts to provide talking points on everything from tax policy to Syria in hopes of influencing Trump. Similar strategies have also been embraced by foreign governments and outside groups trying to sway the president's thinking.
Matching Trump's tweets to the cable segments that inspired them has become a favorite parlor game for media watchers. But the AP report here adds an extra layer of nuance. And right on time Monday, on Fox News, Bassam Rifai of the Syrian American Council turned directly to the camera and shared his preferred policy response to a suspected chemical weapons attack in Syria:
The president needs to take swift and decisive action right now. President Trump, I'm speaking to you directly. Do not [make] the same mistake that President Obama had made. The action that you had taken in Khan Shaykhun to take out the airbase there, that was important — and that was strong. That was a very strong message. But what we need to do right now is to take out Assad's air force.

G/O Media may get a commission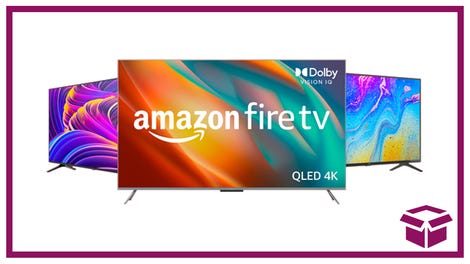 Ooh. stunning.
New Amazon Fire TVs
This is where the Trump-Fox connection gets far more serious than his avuncular affinity for Jesse Watters. Maybe White House aides really are losing control of an impulsive president. Or maybe they never were truly moderating forces to begin with. But Trump's obsession with TV remains constant. It's part mirror, part sounding-board, part-presidential adviser. And Trump has increasingly gone the extra step and simply hired talking heads to staff his administration: John Bolton, Larry Kudlow, Heather Nauert, K.T. McFarland. It's not just that these people have the ear of the president from their cable news perches—namely Fox—but also that they're becoming integral parts of the government.
Now, the administration has said that it will meet with North Korean Dictator Kim Jong-un to discuss the country's nuclear program. Trump has signaled that he's weighing military responses to the attack in Syria. And tomorrow's edition of Fox & Friends just got a lot more frightening.