Vine star Jasmeet Singh (better known as Jus Reign) has made a name for himself with his quick, clever videos poking fun at the cultural tensions that sometimes arise when you're a Sikh man living in a country of people that can't tell the difference between Sikhism and Hinduism.
Though Singh's comedy often makes light of cross-cultural insensitivity (read: racism,) a recent experience with TSA at the San Francisco International Airport left the comedian in the uncomfortable position of having to take to Twitter after being forced to remove his turban and walk in public with his head exposed after being screened as a flight risk.
G/O Media may get a commission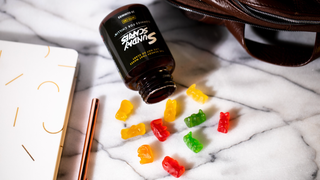 10mg CBD Gummies (22-Count)
For many Sikhs, the dastaar—the type of turban associated with Sikhism—is more than just a piece of clothing, it's an integral part of their faith and cultural identity. In addition to being a mandatory adornment for men who've been baptized in the Sikh tradition, turbans can also represent a person's honor, dignity, and self-worth.
Singh's made a number of lighthearted videos in the past about how most non-Sikh people don't really know all that much about a turban's importance.
Back in 2008, the TSA at SFO managed to bring the number of turban-wearing Sikhs it pulled aside for secondary screenings down by 66% after a concerted push from The Sikh Coalition for fair treatment. Considering how many Sikhs the TSA at SFO stop every year, however, Singh makes a solid point in calling the organization out for not having protocols in place that respect the passengers it stops.
In this instance, though, it isn't hard to see why Singh's encounter with the TSA left him rattled.
"At the end of the day the main issue wasn't with me taking off my turban; I get it," Singh explained towards the end of his exasperated tweetstorm. "I followed protocol so they could feel 'safe.' [The] only thing [you] can pride yourself in is how much you're riddled with xenophobia."
https://twitter.com/JusReign/status/701801048114126850