On Tuesday, the House Oversight Committee held a hearing on the state of the Transportation Security Administration (TSA). According to Department of Homeland Security (DHS) Inspector General John Roth, the agency tasked with protecting us from terror attacks on flights is — once again — failing. Failing hard.
Roth said in his statement before the committee that covert testing — undertaken at eight U.S. airports of various sizes —revealed major security gaps in TSA practices. In Roth's words:

The failures included failures in the technology, failures in TSA procedures, and human error. We found layers of security simply missing. It would be misleading to minimize the rigor of our testing, or to imply that our testing was not an accurate reflection of the effectiveness of the totality of aviation security.
During the hearing, Ars Technica reports, Rep. Stephen Lynch (D-Mass.) said the situation is dire. "In looking at the number of times people got through with guns or bombs in these covert testing exercises it really was pathetic. When I say that I mean pitiful," he said. "Just thinking about the breaches there, it's horrific."
Roth added that the results, though upsetting, are not surprising. "In September 2014," he said, "we conducted covert testing of the checked baggage screening system and identified significant vulnerabilities in this area caused by human and technology based failures." Other security fallibilities were discovered in previous years.
G/O Media may get a commission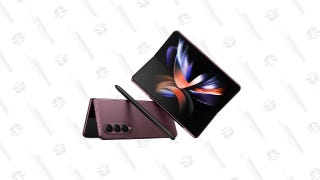 Save Up to $300
Galaxy Z Fold4
In his statement, Roth said he hopes the TSA will make significant changes, "without a sustained commitment to addressing known vulnerabilities," he warned, "the agency risks compromising the safety of the Nation's transportation systems."
Jennifer Grover, director of the Government Accountability Office's (GAO) Homeland Security and Justice, also painted a chilling picture of the TSA. She said in a statement, "GAO has found that TSA has not consistently evaluated the overall effectiveness of new technologies before adopting them." She added that "GAO has found that TSA has not consistently established performance measures that fully reflect program goals," and that "GAO has also reported on findings related to program data that TSA collected but had not analyzed, missing opportunities to refine and further improve TSA programs."
TSA Administrator Peter Neffenger, however, offered a slightly rosier picture of the TSA's ability to prevent attacks. "This was not a deliberate test of the entire system… the system as a whole remains effective and, as a result of this series of tests, has only gotten stronger."
He added that the TSA will, moving forward, make some changes to make sure it performs better during future covert operations. Those changes could be frustrating for regular travelers (emphasis ours):

It is clear that we now must improve our effectiveness. By focusing on the basic fundamentals of security screening, and by readjusting the measurements of success to focus on security rather than speed, and by measuring what we value most, we can adjust the institutional focus and adapt the culture to deliver success.
Better safe than on time, we guess.
Danielle Wiener-Bronner is a news reporter.