Sadly, the world has come to expect outrageous behavior from President Donald Trump. His undignified tweet storms have become a near–daily occurrence. But in the past few days, Trump's tweets have indicated the president has a serious behavioral problem.
Becoming the president of the United States apparently isn't enough for validation–seeking Trump. With Twitter, he has found a way to draw even more attention to himself and the reality show taking place in his own head.

The latest debasement came in a tweet Sunday featuring Trump in an old, embarrassing WWE professional wrestling video clip. A cheap graphic covered the face of wrestler Vince McMahon with CNN's logo as Trump appears to body slam and repeatedly fake punch McMahon, a benighted metaphor for attacking the country's free press. The edited video appears to have been first posted on Reddit.

Trump added the hashtags #FraudNewsCNN and #FNN.


G/O Media may get a commission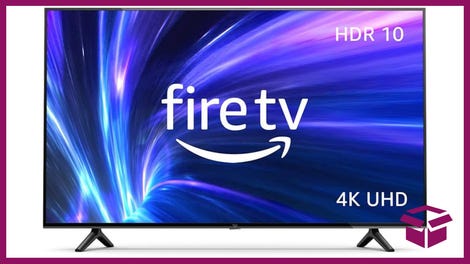 42% Off
Amazon Fire TV 50" 4K Smart TV

This episode follows another of his Twitter rants on Saturday that bemoaned the "FAKE & FRAUDULENT NEWS MEDIA" and defended his obsessive tweeting by implying that he's some kind of presidential genius. He also bragged about winning the election, again.
His latest tweets follow several days of Trump cyberbullying Morning Joe co–hosts Mika Brzezinski and Joe Scarborough, who accused the president of blackmail over a hit piece published in the National Enquirer.
Trump might think that body slamming reporters in a fake wrestling parody is funny, or even emboldening. Except that something like this actually already happened, and now the president is again encouraging violence against reporters, whom he once described (on Twitter) as the "enemy of the American people."
It's impossible not to recall that just over a month ago, Montana Republican congressional candidate Greg Gianforte body slammed The Guardian reporter Ben Jacobs after the journalist persistently asked questions about Republican health care plans. Gianforte won the election anyway and was sworn in as a member of Congress less than two weeks ago.
So, is there a way to stop this? Well, possibly, if Twitter would enforce its own terms of service:
In response, CNN issued a statement saying, "It is a sad day when the President of the United States encourages violence against reporters. Clearly, Sarah Huckabee Sanders lied when she said the President had never done so."