A team of Afghan girls competing in a robotics competition have been denied entry to the United States for a second time—and no one is quite sure why.

The six female students are the only ones out of 162 teams who have been denied visas into the U.S. They will still participate in the competition, but they will be doing so remotely, watching the action unfold from their hometown in Western Afghanistan.
What makes the decision all the more surprising is that Afghanistan isn't one of the six Muslim-majority countries covered by Donald Trump's travel ban. In fact, according to the AP, three teams from the affected countries (Syria, Iran, and Sudan) were given visas. A team from the Gambia was also allowed entry after initially being denied.
The girls' robot, however, was allowed entry into the U.S.
The U.S. government won't say why the girls can't enter the country. From the AP:
The U.S. State Department declined to comment on why the Afghan team's visa applications were denied, saying "all visa applications are adjudicated on a case-by-case basis in accordance with U.S. law." The agency cited a provision in the Immigration and Nationality Act that "prohibits us from discussing individual visa cases."

G/O Media may get a commission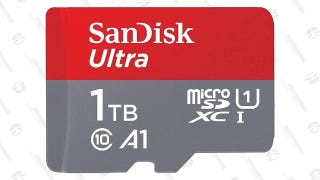 Save $75
SanDisk Ultra 1TB MicroSDXC Card
A growing "brain drain" from Afghanistan to the U.S. may to be blame, according to one Washington Post article. It cites instances of Afghan scholarship students, academic fellows, and teachers who, after receiving temporary visas for the States, "vanish into immigrant communities instead of returning home."
One of the girls firmly refuted to the Post that she or her teammates had any plans to overstay their visas:
"Each of us gave them written guarantees from two government employees vouching for our return," said Rodaba Noori, 16, a member of the Afghan team that built a ball-sorting robot. "This is our country. We have our life and family here," she said. "How could we abandon them and not return after the competition?"