Last November, more than half of U.S. state governors said they would not allow refugees fleeing the ongoing conflict in Syria to be settled in their states.
10,000 Syrians later, how's that pledge working out?
Alice Wells, the U.S. ambassador to Jordan, announced on Monday that a group of several hundred Syrian families leaving for new homes in Virginia and California will include the 10,000th Syrian refugee the U.S. has accepted, meeting a goal set by President Barack Obama in 2015.
That's a significant increase over the 2015 fiscal year, when the government reported accepting about 1,000 refugees, and it came over the objections of politicians who were opposed to allowing more Syrians into the country.
Indiana Gov. Mike Pence, now the Republican vice presidential candidate, was one of several governors who said they would not allow more refugees into their states in the wake of the  terrorist attacks in Paris last November. The governors cited concerns that the groups admitted might include terrorist cells, despite the rigorous screening process refugees are forced to undergo.
G/O Media may get a commission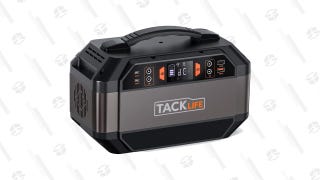 Tacklife Portable Solar Generator
Earlier this month, Pence appeared on 60 Minutes, bragging about suspending the Syrian refugee program, even though that didn't actually happen.
In just about every state where the refugee program went to trial, courts ruled that governors did not have the authority to stop resettlement. The Washington Post reports 140 Syrian refugees have been settled in Indiana in the last year.
Before we get too proud of ourselves, let's remember that the U.S. has accepted a rather small share of the 6.6 million Syrians the U.N. says have been displaced by the war, especially given our size and wealth.
According to Amnesty International, 4.5 million Syrian refugees are concentrated in the nations of Turkey, Lebanon, Jordan, Iraq and Egypt. Germany registered 600,000 refugees as of April 2016. And just to the north, Canada has resettled three times as many refugees as the U.S. as of July.
The current administration said it intends to do better and has pledged to up the U.S.'s commitment to 100,000 refugees in 2017.