The U.S. women's hockey team is boycotting the International Ice Hockey Federation World Championship later this month in hopes of securing fairer pay. But rather than move to pay them a living wage or, heaven forbid, paying them equally to men, the USA Hockey group is reportedly considering just replacing the women with other women who will work for low pay.
"We have heard that USA Hockey is attempting to field an alternative team to play in the World Championship games," the boycotting players said in a statement emailed to multiple outlets on Thursday. "We regret that they have not instead chosen to reconsider their treatment of the current World Championship-winning team."
A USA Hockey spokesperson told NPR that it will try to field a team for the competition, but that it wants to first speak to the already selected team one-on-one.
The women on the original team–who are currently ranked first in the world–are boycotting after negotiations for fair pay and "equitable support" have stalled for a year.
G/O Media may get a commission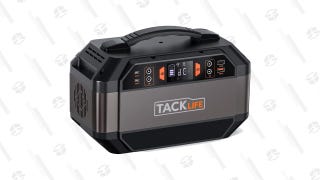 Tacklife Portable Solar Generator
According to a press release from the lawyers representing the players, about half of the members of the championship team have to hold second or third jobs during years without Olympic competitions, despite being expected to train full-time.
The team is also asking USA Hockey to support talent development for girls interested in the sport. According to their press release, USA Hockey spends $3.5 million each year to support games as part of a talent development program for boys, but there's no equivalent program for girls.
In a statement, USA Hockey denied claims that it does not support girls and women in the sport, and stated that it is taking steps to increase support to the women in the sport.
"We stand by our original position: that it is time USA Hockey supported its programs for women and girls at the level it provides to boys and men," the boycotting team said in its emailed statement. "And we are grateful for the support we've received from across the world for our stance on this subject."
Some of the team's most vocal supporters come from another U.S. Women's National Team embroiled in a fight for fair pay: the U.S. Women's Soccer Team.
The competition that the team is boycotting begins on March 31.