For decades, the U.S. auto industry has revolved around Detroit and southeast Michigan, with its manufacturing plants and iconic car designs. But new driverless car technology pioneered by Google, as well as upstart competitors like Tesla, are threatening to move the industry's center of gravity west to Silicon Valley.
Michigan isn't giving up without a fight. The University of Michigan and state officials launched a new driverless car research center in Ann Arbor yesterday, pledging to renew the rustbelt as a hub of auto innovation.
The research center, Mcity, is built on 32 acres of the university's campus. It's basically a fake town designed to simulate everything a driverless car could face in the real world. Cars will drive down concrete, asphalt, brick, and dirt roads, navigating around intersections, traffic signals, construction barriers, and other obstacles. There are sidewalks and movable facades meant to evoke small town America.

A. Thomason/University of Michigan
"Will the automated vehicle detect the pedestrian in the crosswalk and stop? Will it recognize the dog running across the road?" asked Jim Sayer, one of the center's researchers, in a U-M video. "Those are the types of technologies and applications specifically that we'll be examining." They're also problems that have cropped up with Google's driverless cars, which have gotten into some fender-benders in recent months.
G/O Media may get a commission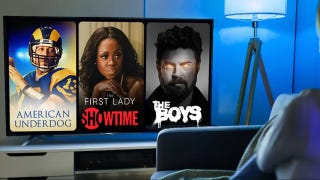 UNDER $1
99¢ Prime Video Channels
Besides driverless technology, the center will also research connected cars, cars that communicate in order to drive closer together, saving gas and road space. The center aims to launch a network of connected cars onto Ann Arbor streets by 2021.
The center's budget is funded by the university, the state, and a dozen car companies, including GM, Ford, Toyota, Honda, and Nissan, with more than $10 million invested already. The car companies will be free to use any innovations developed at the research center.
The Michigan gearheads are coming from behind: At its Mountain View, Ca. labs, Google's automated cars are already navigating through Bay Area traffic without a hand on the wheel. Across the pond, the EU has made big investments in connected car systems.
But Motor City is not giving up. "This is the center of the universe, it is Michigan, it's not California," Sen. Gary Peters said at the UM center's launch event. "We are not going to let Silicon Valley take this technology." (Researchers said there were also opportunities for collaboration with those California upstarts as well.)
Watch some cars drive around the test tracks and avoid hitting pedestrians:
Here's a map of the center with more information:
Casey Tolan is a National News Reporter for Fusion based in New York City.