"He was mother's favorite because he was the most humble. He did nothing to deserve to die like that," posted Nawal Omar, one victim's sibling.
"I heard about this murder on Facebook and Twitter, not even on the news. No one on the news was talking about it," Eidi Mohamed, a friend of two of the victims, said in an interview with Fusion.
Two weeks after the execution-style shooting of three young men at an abandoned home in Fort Wayne, Indiana, friends and loved ones of the victims are increasingly frustrated that the tragedy isn't gaining more attention—and that so many questions about what happened still remain. They say the limited response to the crime illustrates racism against black Muslim men in the U.S.
The three victims were Sudanese Americans: Mohamed T. Omar, 23; Adam K. Mekki, 20; and Muhannad A. Tairab, 17. Two of them, Omar and Tairab, were Muslim. Mekki was Christian. All three were shot at a vacant house in Fort Wayne on Feb. 24.
G/O Media may get a commission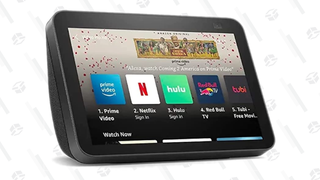 But the identity of the killer and the reason behind the triple murder are still unknown, and people who knew the victims say they're shocked at what they see as a lack of attention from public officials and the media.
"The governor of Indiana didn't say anything about it," said Eidi Mohamed, noting the silence of Indiana's Republican Gov. Mike Pence. The governor's office did not respond to multiple requests for comment from Fusion. The Fort Wayne mayor's office also did not respond to Fusion's requests for comment.
"This incident remains under investigation by the Fort Wayne Police Department" stated Ft. Wayne's Police Department in a press release issued on the day of the shootings. The department has not released any new information since, and Fusion's requests for an update on the investigation were not answered.
In comparison, many Muslims are reminded of last year's execution-style shooting of three Muslims in Chapel Hill, North Carolina, which drew international outrage.
In that case, three Muslim Americans of Arab descent were killed execution-style by their neighbor, Craig Stephen Hicks. Two of the victims were females and all three had very light skin. "The context of the two crimes are different" said Yousef Abu-Salha, the brother of two of the Chapel Hill victims. "Razan, Yusor, and Deah's killer turned himself in on the night of the crime. In his own Facebook profile, he portrayed his hate of religion" he added.
Meanwhile in Fort Wayne the killer is yet to be identified. It's unclear what the Fort Wayne victims were doing in the abandoned home, which was known locally as a "party house" according to Public Safety Director Rusty York.
Fort Wayne "isn't diverse," said Edei Mohamed, 21, a childhood friend of Mohamed and Muhanned. "The first thought that came to my mind was that this doesn't seem right," he said. "Just like Chapel Hill went crazy, this will go crazy, too."
But it didn't. "I did notice a difference in the magnitude of the online posts between the two crimes,"  said Abu-Salha. "No life is worth more than the other. We should be outraged at any unjust loss of life. Mohammed, Mohanned, and Adam should be remembered and celebrated in perpetuity."
"The Chapel Hill Shootings didn't reach headline news until the local Muslim community's outrage sparked media coverage from outside sources" he noted.
In the days after the Fort Wayne shooting, social media activists demonstrated plenty of outrage, tweeting and posting online using the hashtags #OurThreeBoys, #OurThreeBrothers, and #BlackMuslimLivesMatter. Yet it gained little traction in the broader community.
Rlly disappointed at the Muslims (Arabs) for staying silent, one ummah uno 😴😴🙄 #BlackMuslimlivesMatter #OurThreeBoys pic.twitter.com/3jaXdR6HKM

— Naima (@Naimzy_) March 1, 2016
Many observers see race as a key factor. David Springer a sociology professor at Northeastern Illinois University, said that being black and Muslim in today's society lands you a ticket at the "bottom of the racial hierarchy".
"Overall this goes back to the victims being black," Springer speculated. "Violence against them is seen as rational or seen as justified in a way that's not for perhaps the general Muslim population."
"It is very unfortunate that the Fort Wayne Shootings weren't covered on U.S. national media," said Abu-Salha. "Had Razan, Yusor, and Deah been African, and were killed in the same manner, I would hope that they would elicit the same coverage and outrage. All minorities still have a long way to go in this country, our home."
Alaa Basatneh is a human-rights activist and a writer at Fusion focusing on the Arab world. She is the protagonist of the 2013 documentary "#ChicagoGirl."