Immigration lawyers say there has been a spike in cases of the U.S. denying passports to people who have an American birth certificate but who were born near the border, according to a new report from the Washington Post. People who have lived their whole lives in America, voted, and served in the army are finding their citizenship called into question. Some are even being jailed in detention centers and faced with deportation.

The state says they're denying these passports due to suspicion of fraudulent birth documents. In the '90s, there was a series of court cases in which midwives near the border admitted to forging birth documents for children born in Mexico.
The Post gives some context on how the State Department dealt with these cases:
[The] State Department during George W. Bush and Barack Obama's administrations denied passports to people who were delivered by midwives in Texas's Rio Grande Valley. The use of midwives is a long-standing tradition in the region, in part because of the cost of hospital care.

The same midwives who provided fraudulent birth certificates also delivered thousands of babies legally in the United States. It has proved nearly impossible to distinguish between legitimate and illegitimate documents, all of them officially issued by the state of Texas decades ago.
In 2009, the ACLU brought a class action lawsuit from Americans who'd been denied passports, and settled with the government. After that, the number of these cases declined for the rest of Obama's tenure, and those who were denied passports initially were often able to successfully appeal the decision.
But Trump's wide-ranging crackdown on immigration has brought back the debate over who gets a passport, and many who believed themselves to be U.S. citizens are finding they are rejected.
G/O Media may get a commission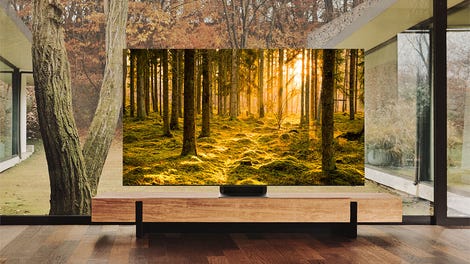 Up to 40% off
Samsung Smart TVs
"We're seeing these kind of cases skyrocketing," Jennifer Correro, a Houston lawyer who is currently handling dozens of these cases., told the Post.
The State Department told the Post in a statement that those "who have birth certificates filed by a midwife or other birth attendant suspected of having engaged in fraudulent activities, as well as applicants who have both a U.S. and foreign birth certificate, are asked to provide additional documentation establishing they were born in the United States."
"Individuals who are unable to demonstrate that they were born in the United States are denied issuance of a passport," they added.
But what does it take to prove where you were born? For some who were born near the border, it's nearly impossible, according to one Mexican American veteran who was denied his passport.
When Juan, the former soldier, received a letter from the State Department telling him it wasn't convinced that he was a U.S. citizen, it requested a range of obscure documents — evidence of his mother's prenatal care, his baptismal certificate, rental agreements from when he was a baby.

He managed to find some of those documents but weeks later received another denial. In a letter, the government said the information "did not establish your birth in the United States."
Now, Juan, who makes $13 an hour as a prison guard, has sought legal help, which will cost him thousands of dollars.
Others have been sent to detention centers if they are unable to prove their birthplace.
In a case last August, a 35-year-old Texas man with a U.S. passport was interrogated while crossing back into Texas from Mexico with his son at the McAllen-Hidalgo-Reynosa International Bridge, connecting Reynosa, Mexico, to McAllen, Tex.

His passport was taken from him, and Customs and Border Protection agents told him to admit that he was born in Mexico, according to documents later filed in federal court. He refused and was sent to the Los Fresnos Detention Center and entered into deportation proceedings.

He was released three days later, but the government scheduled a deportation hearing for him in 2019. His passport, which had been issued in 2008, was revoked.
Amazingly, this man's story is not an aberration. "I've had probably 20 people who have been sent to the detention center—U.S. citizens," Jaime Diez, an attorney in Brownsville, TX, told the Post.
Diez represents dozens of U.S. citizens who were denied their passports or had their passports suddenly revoked. Among them are soldiers and Border Patrol agents. In some cases, Immigration and Customs Enforcement agents have arrived at his clients' homes without notice and taken passports away.
The government refuses to provide a list of midwives or doctors who they will not accept as signatories on birth certificates. Some who have been denied passports were delivered by Jorge Treviño, a well known local gynecologist who delivered 15,000 babies. This policy, then, essentially allows the government to cast doubt on anyone's citizenship. The Post notes that this policy, if it was applied to the stricter voter ID laws Trump wants, could disenfranchise a swath of Democratic, Hispanic voters in Texas.
This policy provides grounds for what is essentially a terror campaign against brown people living near the border. Even if you've lived here your whole life, served in the military, and voted in elections—things we consider as central to American identity—you're still not safe.
This is some seriously scary shit.