Sen. Jeff Flake, one of the worst people in America, went on iconic Splinter fave The View today, and, because this is The View, his particular brand of bullshit was exposed almost immediately.

The hosts wanted to talk to Flake about—what else?—Brett Kavanaugh, and his central role in ultimately pushing Kavanaugh's Supreme Court nomination over the line. Flake went on several long tangents about partisanship and decency, but then Joy Behar and Sunny Hostin got him to say something kind of wild: He didn't know if he believed that Kavanaugh was telling the truth.
"I don't know. I wish I had the certitude that some of my colleagues expressed," he said. When they asked if he believed Christine Blasey Ford's story, he said, "I don't know. I don't know. I don't know if I believed him either."
So Jeff Flake thinks Brett Kavanaugh might have lied to the world about an alleged incident of sexual assault, but oh well, gotta vote for him anyway! Cool stuff.
Then Behar asked the obvious question: "Why not just find another person without this ambiguity? There are many judges out there who are quite capable for the job. Why him?"
G/O Media may get a commission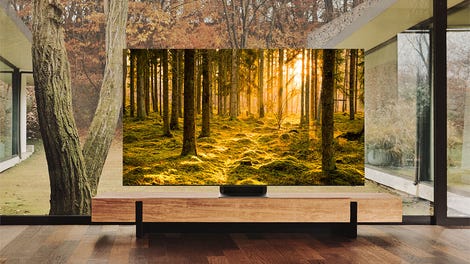 Up to 40% off
Samsung Smart TVs
"That's a valid view," Flake said. "On the flip side, people would say with some justification that the mere allegation with no corroboration is sufficient to disqualify someone, we have entered a new phase that we probably don't want to enter."
Jeff Flake fuck off!!!! The View forever!