Sure, this will probably bother Increasingly Embittered Olds who like to shake their canes and remember the early days of the Warped Tour. But the touring festival, now celebrating its 21st year, is older than most of its attendees. That means, naturally, that the lineup has evolved away from its early, fairly purist punk, ska, and occasional skater-approved-hip-hop roots.
These days the lineup kinda, sporta still bears some post-post-post-post-hardcore and pop-punk-ish roots, but it's also wisely evolved with the times to keep up with what the Youngs like. In recent years Warped Tour has moved towards including more pop-leaning acts, hip-hop, and dance music alongside the usual guys-with-guitars. This naturally makes the lineup announcement a big deal on the internet – what surprises will it yield?
It turns out, when the lineup dropped last night, there are a bunch of surprises indeed that alternately made kids either super stoked or super salty. You can read the whole lineup so far here — but let's take a look at the big takeaways!
1. At least so far, organizers aren't really even trying to nod at their roots any more.
Usually, they'll stick in a few older punk or ska bands as a token educate-the-kids thing; last year had Less Than Jake and about every other year they'll throw on Bad Religion and the like. That might happen his year, but so far it hasn't.
G/O Media may get a commission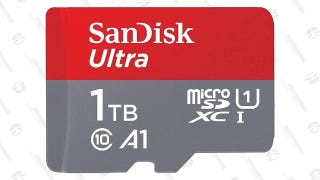 Save $75
SanDisk Ultra 1TB MicroSDXC Card
2. Juliet Simms can't really shake her "scene" past.
Juliet Simms boasts some serious vocal skills, no doubt — something she showed off when she appeared on The Voice in 2012 with a new, Janis Joplin-y persona. But, hey, she did start her career in a band called Automatic Love Letter. And she hasn't really broken through on a proper mainstream level since her turn on TV. But hey, the Warped Tour kids still support her, so that's something.
3. People are really, really stoked that Riff Raff is playing.
This makes sense; Riff Raff plays a lot of super-late, super-rowdy club shows that are not that accessible for teens. It's a brilliant business move for everyone involved, because check some of the typical tweets about this revelation:
https://twitter.com/d_dx_deez_nuts/status/563180284263161856
4. Conversely, people really, really equally love and hate the Black Veil Brides.
So, you basically don't mess with the Bridesmaids, the uber-devoted fan base of Black Veil Brides, who, yes, get clowned a lot for early videos like this.
But, still, they've (kinda) matured into this Motley Crue-ish, Sunset Strip-y hard rock kinda act, and their fans still really, really love them. Other people, not so much. In fact, the dramatic reactions rained down so strongly that the phrase "Black Veil Brides" trended on Twitter for a time yesterday evening.
https://twitter.com/xyorkerx/status/563241812798603264
It's gonna be a good time to crack out the popcorn and watch social media for reactions when the tour actually starts.
5. …And speaking of Metro Station, i.e. Trace Cyrus' band! They still exist!
Hark back to a time, if you will, when Trace Cyrus almost — almost — managed pop stardom as serious as his sister's. Ha, ha, ha. Remember these days?
The year was 2007, Cyrus had already managed to cover himself toes to chest in tattoos by the age of 18, and this song lit up every pop radio chart.
In ensuing years, everyone got mad and quit the band, pretty much, we all focused on the other singing Cyrus, and the musical and visual style Metro Station reached kinda faded away. But they're here, and they're trying to make it happen again. Cool. Get ready for a lot of this face again.
Arielle Castillo is Fusion's culture editor, reporting on arts, music, culture, and subcultures from the streets on up. She's also a connoisseur of weird Florida, weightlifting, and cats.