No one really knows what the hell is going on with next month's prokposed North Korea summit right now, but on Monday, the U.S. took another step towards trying to bring North Korea back to the table.

The Wall Street Journal reports that the Trump administration was prepared to enact major new sanctions on North Korea on Tuesday, but today decided that they would indefinitely delay them in order to try to resurrect the summit. U.S. officials are also reportedly meeting with North Korean representatives at Panmunjom, where the Korean War armistice was signed nearly sixty-five years ago, to try to revive the summit.
The sanctions, the Wall Street Journal reports, were nothing to scoff at, especially considering that the already-existing sanctions have reportedly cut off half of North Korea's international revenue:
The Treasury Department had prepared a package aimed at nearly three-dozen sanction targets, including Russian and Chinese entities, according to two administration officials. The actions were being readied in response to the recent aggressive rhetoric from Mr. Kim, which prompted Mr. Trump last week to abruptly cancel next month's planned summit, before suggesting a day later that it was still a possibility.

[...]

North Korea has faced one of modern history's most comprehensive sanction regimes, which cuts off the country's financial system from the world and bans most of its trade. But Pyongyang is still able to raise cash overseas through a sophisticated network of agents tapping illicit markets around the world.

But at the same time, it appears that some "senior administration officials" aren't totally satisfied:
The U.S. signaled last week it would turn its attention to strengthening the sanctions regime should summit talks fail. Senior administration officials say more sanctions are necessary to choke off foreign revenues keeping North Korea afloat and undermining Washington's diplomatic leverage.

[...]

"The goal here is to achieve maximum pressure," a senior administration official said last week after Mr. Trump said he was pulling out of the planned June summit. "We're still short of that."
G/O Media may get a commission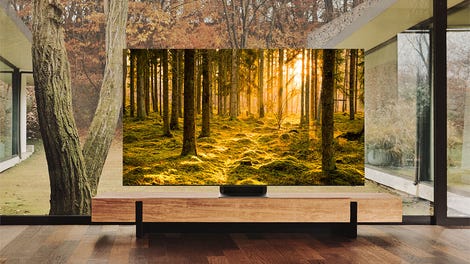 Up to 40% off
Samsung Smart TVs
Trump officially pulled out of the summit last week in a profoundly dumb letter to North Korean leader Kim Jong-un, but said over the weekend that the administration was still looking at the previously determined June 12 date for talks.
While Trump is busy tripping over his own dick, Kim and South Korean president Moon Jae-in held a surprise meeting on Saturday. On Monday, Reuters reported that Moon said he wants more informal talks like that.
"What's more important than anything from the latest inter-Korean summit was that the leaders easily got in contact, easily made an appointment and easily met to discuss urgent matters, without complicated procedures and formalities, just like a casual meeting," Moon said. Which world leader deserves that Nobel Peace Prize, again?