Welcome to WHAT NOW, a morning round-up of the news/fresh horrors that await you today.

Buried in another juicy story about a White House rocked by days of bombshell reporting on Donald Trump Jr. and the Russians comes an indication that the president's allies are preparing to train their sights on specific reporters for revenge.
As The Washington Post reported today (emphasis added):
A handful of Republican operatives close to the White House are scrambling to Trump Jr.'s defense and have begun what could be an extensive campaign to try to discredit some of the journalists who have been reporting on the matter.

Their plan, as one member of the team described it, is to research the reporters' previous work, in some cases going back years, and to exploit any mistakes or perceived biases. They intend to demand corrections, trumpet errors on social media and feed them to conservative outlets, such as Fox News.
While other sources in the story acknowledge that even a targeted smear campaign could be too little too late, it's a deeply troubling prospect, particularly when paired with President Trump using his Twitter account as a bully pulpit for pummeling the credibility of the mainstream media.
It's easy to discount Trump's tweets—this is, after all, the same guy who's tweeted a dozen times about Robert Pattinson and Kristen Stewart's relationship—but it's worth bearing in mind that messages, even in 140 characters or less, carry the full weight of the presidency.
G/O Media may get a commission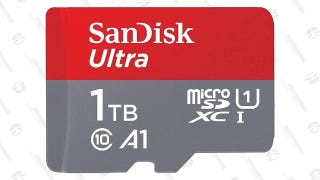 Save $70
SanDisk Ultra 1TB MicroSDXC Card
So it's dismaying to watch Trump tweet things like this this morning:
This is nothing new from Trump, but he's still the only member of the administration that's offered anything resembling a robust defense of his son's Russian affair so far. And if his only line of defense is "my son is nice" and attacking the media, we've got a problem.
WHAT ELSE?
We should have another version of the Republicans' repugnant healthcare bill to review tomorrow, according to Axios, after Majority Leader Mitch McConnell moved back the summer recess by two weeks in an effort to shove something, anything, through Congress.
Joe Scarborough, engaged music man, said he was leaving the Republican Party last night on The Late Show with Stephen Colbert. Cool.
Even veterans who aren't citizens but have been convicted of crimes are being deported to places like Tijuana, Mexico, where they lose their access to basic healthcare—along with treatment for more complex issues like PTSD—through Veterans Affairs.