Heroin and prescription-drug abuse — and deaths associated with the two drugs — have continued to soar upward in recent years.
And some of the biggest effects have been felt by young people. According to 2013 research from the National Institute on Drug Abuse, young adults aged 18-25 are the most frequent abusers of prescription and anti-anxiety drugs. First-time heroin use among young people from 2007-11 rose more than 80 percent. Heroin deaths last year rose by almost 40 percent, according to the Centers for Disease Control and Prevention.
With an uptick in both abuses and deaths across age groups in mind, President Barack Obama is requesting tens of millions of dollars in his fiscal-year 2016 budget for a more aggressive effort in dealing with the problems.
The new approach, which is being led by the Centers for Disease Control and Prevention (CDC) and Substance Abuse and Mental Health Services Administration (SAMHSA), attempts to place a stronger emphasis on treating drug addicts rather than sending them to jail.
"We need to address both efforts on the demand side as well as the supply side," said David Hickton, a U.S. attorney from Pennsylvania.
G/O Media may get a commission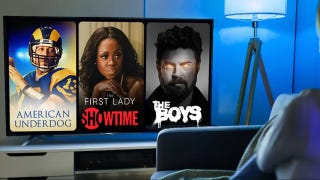 UNDER $1
99¢ Prime Video Channels
Overall, the Obama administration is requesting $133 million from Congress for the new approach. Here's how the bulk of it would be spent:

$48 million would go toward boosting state-level abuse prevention under a big program that already currently exists. It would support grants to all 50 states that would go toward improving reporting and data practices about overdoses and deaths.
$12 million would go toward helping states purchase naloxone, which counters the effects of overdose from opioids, as well as equipping and training first responders.
About $25 million would go toward education and prevention efforts in both the CDC and SAMHSA.
Administration officials said Thursday that heroin and prescription-drug overdoses now kill more people than car accidents and gunshot wounds on an annual basis. And the concern for what they called a "federal health epidemic" is especially prevalent among young people.
A 2013 study from SAMHSA showed the need to stop the problem in its roots. According to the study, the heroin incidence rate — which measures the frequency with which people use heroin — jumped most prominently with people between the ages of 18-25 from 2002-11:
The incidence rate has also climbed most alarmingly among low-income people between the ages of 12-49, especially among those making less than $20,000 a year:
"We know that early substance use, including prescription drugs and heroin, has lifelong consequences," Michael Botticelli, the acting director of the White House's Office of National Drug Policy, told Fusion.
"I have talked with countless people in recovery who began using drugs at an early age. And too many parents have experienced the tragic loss of a son or daughter to an opioid overdose. So it is critically important to prevent young people from using drugs and to increase access to treatment for those who need it. That's why many of the new investments in the President's Budget focus on prevention efforts aimed at young people.
Dr. Jennifer Fan, a public health adviser at SAMHSA, told Fusion that trends have been moving in the right direction with younger people over the past few years, and the growth rate in the heroin incidence rate is stabilizing. But she said there's still work to do, and the key starts with education to change the perception of heroin and prescription drugs at an early age.
"We need to change the perception so that we make it clear prescription drugs have consequences," Fan said. "It needs to be a knowledge-based approach."
Brett LoGiurato is the senior national political correspondent at Fusion, where he covers all things 2016. He'll give you everything you need to know about politics, with a healthy side of puns.