My cousin noticed her first, lingering around our table in this redneck-adjacent bar on the outskirts of Portland, Oregon. My cousin had gotten into competitive darts; I was along for the voyeuristic ride. Soon this strange middle-aged white lady had pulled up a high chair next to us, open and inviting as they come. My cousin left to throw his darts, and she pinned me in conversation. And then this white dude with a graying mustache made his presence felt along the periphery of our table.
While the pale lady seemed nice enough, her husband was unnerving. He chatted me up while his wife grooved to pop music in her chair. His small talk was an advertisement for how cool he was with black people, the kind of commercial people who are actually cool with black people rarely sell. (Really, what could the lives of his military buddies have to do with what he knew of mine?) Dude wrapped up this hard pitch by asking me out to the couple's van, brought over from a much smaller town 10 minutes away.

I turned and his wife was already out in the parking lot. They had a jar of something special they thought I'd be into—a concoction, I think he called it. This was weird. An I've-seen-this-on-Pornhub brand of strange. The Pacific Northwest is one of America's kinkiest regions, and between the guy's racially inflected attempt to befriend me and the presence of his wife in that van, I thought I knew where this was going.

I followed the couple out into the parking lot. Why? Because I was in the fading heyday of sexual adventure. And my girlfriend was out of state. And because sex has microcosmic qualities: You can tell a lot about a people if you pay attention to how they screw.

▼ ▼ ▼


On that December night three years ago, the use of "cuck" as a political insult hadn't fully permeated the American consciousness. Indeed, before Barack Obama became president of the United States, cuckoldry—men getting off on watching their female partner get fucked—had little aboveground circulation in the nation's political life. Now, the shortened version of the term, which incubated in Gamergate and blazed through the alt-right, is widespread enough to get shouted at television stars in Los Angeles bars. Debated on right-wing websites as either grotesque or useful, excavated in outlets from GQ, it's mutated to mean something more race traitor than wimp.
Case in point: White racist standard-bearer Richard Spencer says the number-one-with-a-bullet far right insult "cuckservative" doesn't make sense unless it's racialized. Last year, he expressed concern it would simply become a synonym for "liberal." And sure, stories about the origins of cuckolding do often detour into quick rundowns of its historical significance as a racialized sexual fantasy, pointing out how often cuckolding is about white men watching black dudes bang their wives.
But we're squeamish about sex. Sure, there's something perfectly obvious about the white right propagating a term based on women and black men's shared history as property. And the allegation of submissiveness manages to call into question both the target's race loyalty and his masculinity. But the rise of "cuck" is about more than that.
G/O Media may get a commission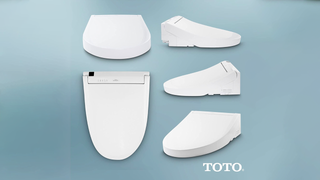 44% off
Toto Washlet Electronic Bidet Toilet Seat
The substance of the fetish-based dis often goes misunderstood. And what's most galling about the conservative movement's hijacking of the word is its rapid reduction of the term—the slur "cuck" limits the range, and erases the nuance, of a complex fetish already rooted in politics of shame and desire.
In his ballsy New York Times magazine essay from earlier this year, Wesley Morris reminded us that black male sexuality has been regarded as transgressive when expressed beyond highly circumscribed norms. So for its core audience, any cuckolding scenario that jumps off with a black dude packing less than eight inches of manmeat might qualify as a cinematic fail. A masculinity fail. Beyond big dicks, black bulls (dom black men) bring little to the cuck-porn party; the point of view cannot be his. This penis that resembles mine is a lucky but fantastically limited prop.
For my money, the ultimate cuckold image, glimpsed on Tumblr, has the black man ejaculating into a seemingly ecstatic Caucasian wife. (There isn't much room for black women in the mainstream version of the fantasy.) Let's just say the cuck then manages to take in some of the bull. One white male's nightmare, another's turn-on, where debasement is the aim. Not only has the cuck "submitted" to his wife's desires—and to a black man, the most humiliating imaginable sexual transgressor—but reinscribed the white woman as the most desirable possible sexual object.
Tellingly, the fetish (or at least its public face) seems to have grown through the early aughts, appearing on Fetlife and on message boards; Urban Dictionary's 2006 entry makes no mention of the racialized aspect of the term. But once Obama beat John McCain in 2008, BBC (big black cock) "bulls" began to ride a zeitgeist wave. By the time Romney was campaigning, cuck microblogs on Tumblr were proliferating: white guys, black penises, and typically white hotwives. Thing is, many people who showed the Donald J. Trump campaign the most love are obsessed with cuckolding pornography.
And as Sherri L. Shauli, one of the senior editors of Adult Video News, joked to me: "We suspect that many of those who self-identify as 'alt-right,' those who have Confederate flags on their social media profiles and those who consistently use the word 'cuck' as some sort of intended insult are rabid viewers of cuckold porn. Particularly genres that feature white men being forced to watch their white wives be satisfied sexually by extremely well-endowed and handsome black men."
"We also wonder if those viewers are much more attracted to the men than the women in those DVDs," she says. "But who are we to judge?"
▼ ▼ ▼
I followed that white couple out to the van before "cuckservative" became a trending term, but I've thought of them often since the right adopted the idea. Cuckold videos on the internet have always made me uncomfortable, but still there's an inclination to hang around. The woman was visibly drunk in a way that she hadn't been inside. It was reasonable to wonder what was inside that jar. And yet I sipped away. My trip is to not lie to myself, where matters of sexuality are concerned. I long ago learned that big white girls in mixed rooms presuppose that the black guy will give them play, should worse come to worst. The word is out: Porny stereotypes sometimes do filter into the real world.
In that parking lot lay pure America, half spectator sport for me, and full of racial overtones. The three of us sipped over nondescript radio rock. Outside the temperature hovered above freezing and there was rain. Their van's back door was open. He did most of the talking, she sang along to herself, up front. I wondered if she was too inebriated. Was the jar of mystery drink an avenue to saving a marriage?

The husband's talk got bogged down in the things that weren't working. His mind wasn't right since returning from combat. (Which war I cannot remember.) His money wasn't straight. A lot of things, to be perfectly honest, weren't working. Is this how it happens before the iPhone camera rolls? Some sad sod in need of a solid trying to throw himself a pity party. That's not sexy.

What exactly are we drinking? I asked. My cellphone rang. My girlfriend. I stepped away from the van and picked up. What are you doing? she asked. I told her: the van, the concoction. The explanation sounded crazy in my mouth. At the time I had no clue at all. But I backed away from the van.
It's possible I was misreading the situation; as Sharan Street would tell me, the cuckold fantasy features both voluntary humiliation on the part of the cuck and, sometimes, the fetishization of the "hotwife" as a dominant actor. So maybe it was the wife's idea. No matter what was going on with them, though, even before the work "cuck" was appropriated by the right something weird and vaguely political was going on.
Small-town America, more than in your typical sanctuary city, is experienced on a visceral level, not on ideological or philosophical planes. The Democratic Party, in 2016, didn't get this—but the forces behind America's white power movement more than comprehend. Cuckolding as a genre of porn and a fetish has within it fears that get to the heart of American anxieties over black male power, and the "cuck" slur weaponizes the already twisted impulses of desire. Theirs, of course, is a humiliation scheme during which the white man is in full control, including over the ways in which the humiliation is wielded.
A previous version of this story misattributed a quote about the political leanings of cuckolding fans. The speculation about the right's interest in BBCs was in fact posed by AVN senior editor Sherri L. Shaulis. We have corrected this story to reflect that fact.
Donnell Alexander is a Portland-based creator of cultural content who hopes to soon be disqualified from writing first-person pieces about economic hardship.