The new Mexican president, Andrés Manuel López Obrador, is under no illusions when it comes to President Donald Trump and race. He told me so in 2017 during an interview. This means that the honeymoon between AMLO, as López Obrador is known, and Trump might be a short one.

"Is Trump a racist?" I asked during our discussion.
"Yes, he is. He has said so," López Obrador, who assumed the presidency on Dec. 1, told me. "He fuels racism. Indeed, he is against foreigners, but, actually, he doesn't feel that way — it's a political strategy.
"That is, let me clarify," he went on. "His strategy, his xenophobia, his racism worked for him. That's how he was elected. And the former administration didn't know how to confront him."
"Isn't calling Trump a racist a bit bold?" I asked.
"Yes, but ... "
"If you become president, this could cause huge problems," I said.
"No, it doesn't have to. I mean, we'll be very clear about things," AMLO said.
"You are saying that the president of the United States is a racist."
"Because that's how he treats us," López Obrador said. "And he shouldn't forget that Mexico is an independent nation."
G/O Media may get a commission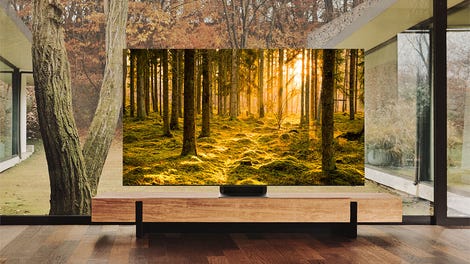 Up to 40% off
Samsung Smart TVs
The question now is whether López Obrador will continue to be the same combative politician he was when he said these things — he actually published a book titled "Oye, Trump" ("Listen Up, Trump") in 2017 — or whether he will just try to get along with the American president now that he is in office.
After the July election in Mexico, Trump congratulated AMLO, and both men have so far avoided a public confrontation over building a border wall. It's a weird relationship: The new Latin American left and the American far right.
Sixty-four percent of Mexicans living in the United States voted for López Obrador when they mailed in their ballots. They expect AMLO to defend them from Trump; they don't want him to leave them to fend for themselves, as former President Enrique Peña Nieto did.
Interestingly, Trump and AMLO have similar views on immigration. López Obrador wants to create good jobs in Mexico, believing it will prevent Mexicans from heading north; Trump is trying to prevent new immigrants from entering the United States from the south. Perhaps they both might work together with regard to what AMLO calls "cooperation for development." Still, the arrival of the Central American caravans at the U.S. border is the first crisis the two presidents will face jointly.
But while AMLO has been critical of the American president, his harshness doesn't extend to the leaders of Venezuela or Cuba.
"Do you believe Nicolás Maduro is a dictator?" I asked him in that 2017 interview.
"I'm not going to judge," López Obrador replied.
"He has violated human rights and dissolved the national assembly. Dozens of people have been killed and many more have become political prisoners [in Venezuela]," I said.
"I don't want to discuss that," insisted AMLO.
"Why?"
"Because we have foreign policy principles: nonintervention and the right of people to self-determination."
I changed the subject to Cuba.
"Can we say now that Raúl Castro is a dictator?" I asked.
"I wouldn't call him that," he answered.
"Mr. López Obrador, Cuba has been a dictatorship since 1959. Raúl was appointed by Fidel in 2008. You have denounced presidents who appoint their successors in Mexico. Why wouldn't you complain about it in Cuba?"
"You have the right to ask all of those questions," he told me. "I also have the right not to get involved in those matters."
It is completely beyond belief that in 2018 a Latin American politician of López Obrador's stature won't dare label Cuba and Venezuela dictatorships. But this might simply be a practical issue, not a tacit acceptance of their ideologies. "Let them not mess with us," he told me later, to sum it up.
It all seems to suggest that defending human rights in the Americas will not be one of López Obrador's priorities. Inviting Maduro to his inauguration ceremony — and thereby undermining international efforts to isolate the Venezuelan dictator — sheds some light on AMLO's approach: He will be focused on Mexico, not on being a leader in the hemisphere.
Mexico has taken a new course. The 89-year rule of the Mexico's two primary political parties ended when Mexicans voted for a change. There are many things we still don't know about López Obrador. But in the end, power will always reveal a leader's true nature.
(P.S. You can watch my interview with López Obrador in Spanish here: bit.ly/2KpbrOI.)
Jorge Ramos, an Emmy Award-winning journalist, is a news anchor on Univision.