Amid the steady trickle of gun violence that has become all too normalized in this country is a particular class of shooting that is perhaps most tragic of all. At a seemingly regular rate, as documented by groups like Parents Against Gun Violence, parents are accidentally shooting their children dead, as firearms meant for protection transform into weapons of family destruction in the flash of a barrel.
The cases read like horror tales, leaving authorities to piece together the details of what happened, parsing through statements issued by distraught, heartbroken, and ashamed parents. In the most recent incident, a Cincinnatti father shot his 14-year-old son dead this week after mistaking him for an early morning intruder. The 911 call to the incident, released by local reporter Mallorie Sullivan, is distressing:
The child apparently snuck back into the home after getting dropped off at a bus stop, police told the Cincinnati Enquirer. He was planning to skip school when he caught his father by surprise.
"It's unimaginable, really," Cincinnati Police Chief Eliot Isaac said at a press conference, calling the incident a "terrible, terrible tragedy."
G/O Media may get a commission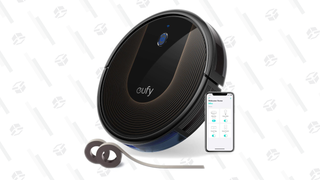 48% Off
Eufy BoostIQ RoboVac
But it was only the most recent tragedy of its kind in recent days. On December 30, a Florida mother woke up to a sound around midnight, grabbed her gun, and fired a single shot in the direction of the noise, thinking it was intruder. Her 27-year-old daughter, home for the holidays, was killed. In October, a Texas man shot and killed his wife after mistaking her for an intruder. That same month, a mother and her son were working on a disabled firearm in their California garage, before it accidentally went off, shooting him in the face and killing him.
There are also close calls. In December, a New York mother heard a "sound" she mistook for an intruder. She fired her shotgun towards the sound, and ended up shooting her 5-month-old daughter's crib, hitting her in the arm. On Christmas Day, a 24-year old man was cleaning his gun when it accidentally went off, shooting his 2-year-old niece in the cheek, nearly killing her.
"This incident is a heartbreaking, yet preventable, tragedy and my thoughts are with this family," Stacey Radnor, a spokesperson for Everytown for Gun Safety, a gun safety non-profit, said of the Cincinnati incident. "Unfortunately, this is another reminder of the gun violence that takes 88 lives each day and injures hundreds more."
"We frequently see cases like this," Ladd Everitt, communications director for the Coalition to Stop Gun Violence, told Fusion. "Where there's a mistaken identity, or an accident that leads to someone in the household being shot."
He pointed to research that finds that having a gun in a domestic household significantly increases the likelihood that someone within the home will die from a homicide, suicide, or an accident, which involves a gun.
"The research is absolutely unanimous on this," said Everitt. "Studies show that owning or keeping a gun in your home does not provide any safety benefit. Just the opposite: it makes you or your loved ones more likely to be harmed."
According to the Center for Disease Control, which tracks all causes of death in the U.S., an estimated 2% of all gun deaths are deemed accidental. In 2013, the latest year for which there is data, these accidents accounted for 505 deaths. However, that number doesn't include incidents in which someone intentionally shoots another person in a case of mistaken identity. Those incidents are grouped into the overall homicide by firearms number. In 2013, there were 11,208 gun homicides.
As such, there isn't a clear data of how frequently American parents are accidentally shooting and killing their own children. But a review of media reports show that it does happen.
The cases are often listed as "accidents," so prosecutions are rare, but they do happen. A father who accidentally shot and killed his 7-year-old son in Adelanto, Ca. last June was convicted on a charge of involuntary manslaughter. He will be sentenced on Friday. In 2012, an off-duty police officer shot and killed his son while on a family vacation after mistaking him for a burglar. He pleaded guilty to criminally negligent homicide, and was sentenced to six months in jail.
Cincinnati prosecutors have declined to file charges against the father involved in this week's incident. He cooperated with police throughout the process, and all forensic evidence matched the father's account of events, Hamilton County Prosecutor Joe Deters said in a press statement on Wednesday morning.
"It is impossible to imagine how horrible this father must feel for mistaking his son for an intruder," he said.
Next door to that home, a neighbor told the Enquirer that it was the father's fear that led him to kill his son. The neighborhood, riddled by a recent stream of home invasions and robberies, had led her to keep a baseball bat next to the door for her own protection.
But everyone else has a gun, she said.
Daniel Rivero is a producer/reporter for Fusion who focuses on police and justice issues. He also skateboards, does a bunch of arts related things on his off time, and likes Cuban coffee.