UPDATE: Santos announced on February 24 that she had raised the money needed for the bookstore. Scroll down for details.
Last weekend, author Roxane Gay gave a rousing keynote speech at Winter Institute, the annual gathering of America's independent booksellers. Gay called on the predominantly white book industry not to merely support diversity, but to fight for it. "I mean, look at this room," Gay said to the crowd of about 700 booksellers, "where I can literally count the number of people of color."
One of that mere handful of people of color was Noëlle Santos, an Afro-Latinx woman who had trekked to Minneapolis all the way from the Bronx. Santos had a good reason for being there: she's trying open up the borough's only bookstore. That's right: the Bronx, which has 1.4 million residents, has had literally no general-interest bookstores anywhere since a Barnes & Noble shut down at the end of last year (it was replaced by a Saks Off Fifth). Santos has decided to change that.
"It just hit me," Santos told me over the phone earlier this week. "I thought, 'I'm going to open a book store. I'm going to bring books to the Bronx.'"
The store of Santos' dreams is called The Lit Bar.
Part bookstore and part wine bar, the shop would provide a space for Bronxites to get their literary fill, offsetting the potential volatility of the book industry with the slightly more stable trade of alcohol. It would also serve as a community hub of sorts, a place to host readings, and showcase local talent. In September of 2016, Santos came in second place in a New York startup competition, winning $7,500. But it's going to take a lot more than that to open up a book store, which is why she's launched an IndieGogo campaign to help her out.
G/O Media may get a commission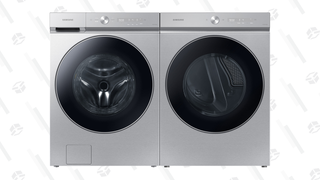 Get $500 back in credit
Last Chance: Samsung Bespoke AI Washer and Dryer Preorder
At first Santos was reluctant to crowdfund, but she soon realized that she needed the support of the community. "My other option was to take investors from people who were not in the Bronx, and give away equity," she said. "It was to the point that it wouldn't be ours anymore."
As you might imagine, Santos is also grappling with the reality of gentrification. The South Bronx has been embroiled in the inevitable wave that's pushing out the area's black inhabitants. Rents in areas like Mott Haven and Hunts Point have risen by up to 28% in some areas since 1990,  and a controversial billboard had attempted to rebrand the area as the "Piano District."
Santos said that she wanted to tackle the issue of gentrification head on.
"There's understandable fear and tensions, but we could become real neighbors," she said. "We could demand respect instead of handing our borough over…I'm tired of the Bronx being the borough left behind. I want to see investment, and I feel like this is my protest against gentrification. We're not going to have any power unless some of us have a seat at the table."
Santos hopes her potential success can inspire Bronxites to stay and invest in their own community. Most of all, she said she wants to teach the borough's younger residents of color that they can have an education and love to read and also be "hip hop," as she puts it.
"There's book deserts all over this country in urban areas," she said. "I want someone to see me and be like, 'I don't have to assimilate to what they call white culture,' whatever that means. Give the Bronx respect because we keep creating it and Brooklyn keeps taking it and I'm tired of it."
Of course, at the end of the day, The Lit Bar is still just about providing books to an immensely underserved population. "I had no idea when I started this that I would be making a political statement," Santos said. "I just wanted to read books. I just wanted to give my people and my hood books. That's what I set out to do."
UPDATE, 2/24/17:
As of February 24, Santos' IndieGoGo successfully met its $100,000 goal. The Bronx is getting a goddamn bookstore!