So the VMAs are on tonight. The VMAs are sometimes good for a few things, like reminding you of the inevitable passage of time ("who or what are 2015 VMA performers Twenty One Pilots?" he said, feeling suddenly ancient and stupid) or launching sociopolitical conversations about race, gender and privilege (you can probably guess what all that refers to). Then there are the times when the world shrugs its collective shoulders.
Based solely on the presence of Macklemore on this year's guest list, we're going into the 2015 show with more than a little skepticism. Really, it seems like there are only two overwhelmingly interesting questions to be answered.
Question number one: will Nicki Minaj's performance address the whole Taylor Swift thing?
You will recall that Nicki Minaj and Taylor Swift had a bit of what the kids and adults both refer to as "drama" a little while back, after Nicki quite reasonably raised some pointed questions about pop music's failure to celebrate women of all shapes and backgrounds, and Taylor freaked out, and Nicki said "uh not everything is about you" and Taylor had to apologize and back down.
G/O Media may get a commission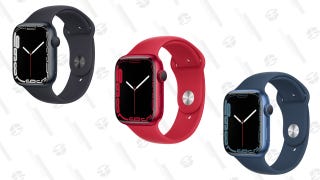 Up To $45 Off
Apple Watch Series 7
To make everything even more pertinent, this mini-feud was sparked by the fact that Nicki's "Anaconda" video was seemingly shut out of the biggest category of the night: Video of the Year. So now Nicki is performing on the show that snubbed her. Every awards show veteran knows that they are places where people "patch things up." Will Taylor make a not-so-surprise cameo? Will they hug? Will Nicki ignore the whole thing? We await the answer.
Question two: what in the world will host Miley Cyrus do?
You will recall that Ms. Cyrus made something of a splash at the VMAs a couple of years ago. Since then, she's been relatively quiet, but she's been on a barnstorming tour in the past week, drumming up interest in the show by opening up about her pansexuality and inserting herself into the Nicki-Taylor beef.
Obviously, Miley is trying to get us to watch her. OK, we'll bite. What's she gonna do? She's already promised lots of "fun skits," so that's a thing.
Besides that, well, did we mention Macklemore?