Once described as Donald Trump's "dapper raconteur," Roger Stone, the guy who wound up the nation's racists and right-wing conspiracy theorists under the mantra of "Lock Her Up!" now faces the very real possibility that he could be the next one to land behind bars in Special Counsel Robert Mueller's Russia probe.
Watching the guy with the Richard Nixon tattoo on his back squirm under the weight of his own legal pressure is something to behold.

It had been rumored for weeks that Stone could be in legal jeopardy over his alleged communications on behalf of Donald Trump with WikiLeaks and Guccifer 2.0, aka Russian intelligence, over access to hacked Democratic emails during the 2016 presidential campaign. Now, with the announcement Friday by Deputy Attorney General Rod Rosenstein of the indictment of 12 members of Russia's military intelligence over hacking and cyberwarfare, Stone's moment in the barrel may have finally arrived—and on Friday the 13th, no less.

Ample material already exists in the public domain showing that Stone had been communicating via private messages on Twitter with Guccifer 2.0, a fictitious persona created by Russian military intelligence. It's not hard to see what he was after: Stone wanted to coordinate attacks on Hillary Clinton's campaign and the Democrats, including weaponizing the hacked emails, to benefit Trump. Stone admitted these communications on his own website over a year ago, although he denied involvement in the hacking conspiracy. (Stone published an exchange with Guccifer 2.0 on Stone's website.)

While the 11-count, 29-page indictment announced on Friday does not mention Stone by name, it unmistakably refers to him. After initially denying that fact, Stone admitted to it in an about-face on CNN on Friday night.

G/O Media may get a commission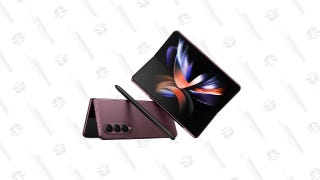 Save Up to $300
Galaxy Z Fold4
According to the indictment: "The Conspirators, posting as Guccifer 2.0, also communicated with U.S. persons about the release of stolen documents. On or about August 15, 2016, the Conspirators, posing as Guccifer 2.0, wrote to a person who was in regular contact with senior members of the presidential campaign of Donald J. Trump, "thank u for writing back..."

In initially denying that this passage referred to him, Stone stepped in it, bigly. He told CNN (emphasis mine) that he didn't think he was the unnamed person in the indictment because, "My contact with the campaign in 2016 was Donald Trump. I was not in regular contact with campaign officials."

Stone must've realized at some point in the day on Friday—or someone pointed it out to him—that he had just hand-delivered conspiracy allegations directly to Donald Trump's doorstep because later, Stone reversed course and admitted on CNN that he likely is the unnamed person in the indictment.

"I think I probably am the person referred to," he said on CNN's Cuomo Prime Time.

Here's how he spun it that time:

"Earlier today before I had a chance to read this extensive document, I wasn't sure. But, I certainly acknowledge that I was in touch with Trump campaign officials, and I have testified under oath to the House Intelligence Committee that I certainly had a 24-word exchange with the persona Guccifer 2.0 over Twitter direct messages. Anyone, any objective person who will read that exchange, which is included in the indictment, will see that based on content, uh, context, and timing, it's benign. It's innocuous."
According to ABC News, Mueller's team of investigators has spoken with at least seven people associated with Stone as part of its ongoing investigation. Time just might be running out on this self-described "dirty trickster." We'll soon find out.