Late last week, a Spirit Airlines flight from Fort Lauderdale to Minneapolis was turned around after a child reported a suspicious man sounded like he'd made a bomb threat while talking on his cell phone.
But Yaniv Abotbul, a U.S. citizen of Israeli descent, was not discussing bomb-making. Instead, he was the focus of the latest incident involving Americans freaking out about their fellow, usually darker-skinned flyers. The incidents have basically all played out in the same way: A passenger notices an individual or group of friends, in almost all instances of Middle Eastern ancestry, on their flight. The watcher then closely monitors their fellow flyer(s) for any unusual behavior, and, once they are satisfied they've seen something, they alert a flight attendant, inevitably causing the flight to be delayed or diverted.
In none of the cases did any of the threats turn out to be substantiated. In one case, the victims themselves called 911 to say they had been profiled.
The Baltimore Sun's Jessica Anderson and Colin Campbell talked to Anthony C. Roman, a former corporate pilot who is now a counterterrorism analyst, about an incident that unfolded in Baltimore.
He said that the aviation industry has security protocols that are "absolute," but also acknowledged that "racial profiling can take place, especially after terrorist attacks."
G/O Media may get a commission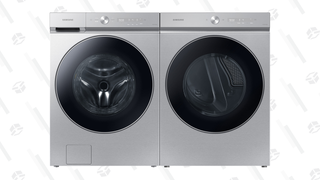 Get $500 back in credit
Last Chance: Samsung Bespoke AI Washer and Dryer Preorder
"Human nature being what it is, there's always a risk" of profiling, he said .
Since Nov. 15, last Sunday, there has been an average of nearly one incident per day involving "suspicious"-looking or suspicious-sounding people that ended up causing flights to be diverted or delayed. In almost all of the cases, the "suspicious" suspect in question either had Brown skin, was speaking Arabic, or both.
Here's the incident map, by origin of flight as well as a summary of each of the recent incidents. If you know of any others please email robert.wile@fusion.net:
And here's the rundown of incidents.
Nov. 15: Washington, D.C. to Boston

Nov. 17: Baltimore to Chicago

Nov. 18: Chicago to Philadelphia

Nov. 18: Chicago to Houston

Nov. 19: Fort Lauderdale to Minneapolis

Nov. 22: Indianapolis to Los Angeles

Rob covers business, economics and the environment for Fusion. He previously worked at Business Insider. He grew up in Chicago.