Rep. Pramila Jayapal, a Democrat representing Washington state, has founded the first political action committee (PAC) dedicated to backing candidates who support Medicare for All, HuffPost reported today.

The Medicare For All PAC, which launched today at passmedicareforall.org, said on the site it "will support candidates, initiatives, research and proposals around the country that share the common conviction that health care is a human right." It was registered with the FEC on August 16.
One thing to keep an eye on: The PAC was established as a leadership PAC, which means it can be "used to fund expenses that are ineligible to be paid by campaign committees or congressional offices," according to OpenSecrets. As the nonpartisan campaign finance advocacy organization Issue One explains, these types of PACs are sometimes essentially used as slush funds for, "among other things, five-star luxury resort stays, expensive dinners, trips to theme parks, golf outings, tickets to Broadway shows and sporting events, and international travel." Some leadership PACs end up donating a small percentage of their funds to actual candidates—Issue One's analysis found only 45 percent of leadership PACs' spending overall went to actual political donations. But Jayapal already has another leadership PAC, which has so far this cycle spent much more on donations to candidates than anything else, according to FEC records. It's just a fun and cool fact of our campaign finance system that we have to watch out for this stuff.
HuffPost also reported Jayapal's PAC plans to only support candidates who aren't just "using the term to refer to a more modest policy like lowering Medicare's eligibility age or creating a Medicare opt-in." This is a positive development. As Medicare for All grows in popularity, with more and more mainstream politicians and organizations voicing support for their own versions of the plan, it's inevitable that some more moderate forces will co-opt the message without really embracing the radical change that's needed. It's also a result of focusing on the less specific—but more palatable—"Medicare for All" slogan as opposed to the confusing-but-more-accurate term "single payer." Politicians who start out by voicing weedy support for half-baked versions of single-payer to try and placate the left can be pushed toward supporting more robust plans. But that will only happen with pressure, including from PACs like this. Money talks.
Last month, the Hill reported that a number of pharmaceutical and insurance companies were forming a non-profit, the Partnership for America's Health Care Future, to fight efforts to enact single-payer. Its members include the Blue Cross Blue Shield Association, PhRMA, and the Federation of American Hospitals.
G/O Media may get a commission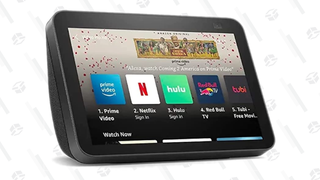 The formation of this PAC is a good sign. Countering the power of groups like PAHCF will take money—although the good guys will probably never have as much money as they do—and, more importantly, an organizational infrastructure in DC which is currently lacking.